Recognition for Agriculture & Forestry at Bangor University in latest World University Rankings
The latest QS World University Rankings by subject have rated Bangor University in the top 100 universities in the World for Agriculture and Forestry, and 61st in the world for Employer Reputation. The rise, from last year's top 200 ranking, puts Bangor amongst the elite of the 829 institutions evaluated world-wide in this subject area. The rankings take into account a range of metrics that cover research, teaching and reputation amongst employers and academics. Bangor was also ranked in the top 250 institutions, out of the 1100 evaluated world-wide for Environmental Sciences, which underpins the high quality of the school's degrees in Geography, Environmental Science and Environmental Conservation.
Agriculture and Forestry have been foci for teaching and research at Bangor for over one hundred years and are now key academic components of the School of Environment, Natural Resources and Geography (SENRGy) within the University's College of Natural Sciences.
John Healey, Professor of Forest Sciences, noted "this recognition of the high international stature of our research and teaching in agriculture and forestry is very welcome. It reflects both the long and successful history of Bangor's work in these subjects and the high profile of our current activity. Through our major programme of international research and education we are able to bring the latest knowledge and innovation into our degree courses, research projects and advice to policy makers. Bangor is at the forefront of work on key international challenges in forestry including sustainable forest management, conservation of forest carbon stocks and biodiversity, restoration of degraded forests, and the socio-economic components of managing forest resources so that they produce equitable benefits for local people."
Bangor's inclusion in the Top Universities world rankings reflects the global reputation that the institution has in fields of Agriculture and Forestry. For example, students from over 105 different countries have graduated in forestry and related subjects from Bangor University whilst the University's agricultural research has developed new crop varieties now feeding millions of people in South Asia. Reflecting the importance of widening participation, Bangor has also been at the forefront of developing the provision of postgraduate distance learning courses in these subjects. Students can now study for an MSc in Forestry or Tropical Forestry via a distance-learning programme. Since 2011, these courses have been selected by the Commonwealth Scholarship Commission to receive funding so that scholarships worth over £12,000 can be offered to students from Commonwealth countries. An MSc in Food Security in the Changing Environment, which focuses on the principles and processes of sustainable food production, is also offered by distance learning.
The School's Henfaes Research Centre, seven miles from Bangor plays an important role it in its agricultural and forestry research, and in student project work. The 252 hectare site at Henfaes combines a working sheep farm, an internationally important woodland national nature reserve and facilities for research and teaching in a range of areas, including lowland agriculture, forestry, hydrology, environmental science and conservation.
Dave Chadwick, Professor of Sustainable Land Use Systems, also welcomed the recognition. He added, "the challenge of sustainably feeding a burgeoning human population in a changing climate will require both modifications to existing, and the development of new, production systems using a range of innovative and cost-effective technologies. Our aim at Bangor is to educate and train future land owners, regulators, policy makers and researchers through the continued integration of internationally recognised research and design within the University's degree programmes in agriculture, conservation and forestry".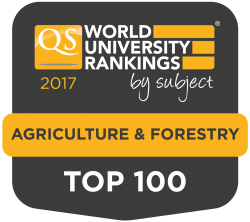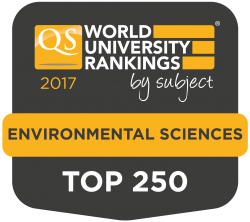 Publication date: 9 March 2017