University degrees lead to Canada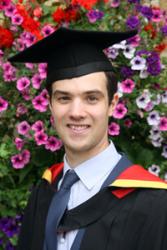 Robert FairweatherAfter an initial bumpy ride into higher education, a prizewinning student graduates for the second time from Bangor University this week.
Robert Fairweather, 27, originally from London, not only graduated with an MRes Ecology postgraduate degree, but also scooped the Chuck Hollingworth Prize for Best Written Thesis in Natural Sciences. Robert is kindly donating the prize money to the Scholars at Risk network, an organisation that seeks to protect academics from threats to their lives and liberty.
A former student at the College of North East London and Haringey, Robert had always wanted to be a marine biologist but wasn't particularity confident with maths and science. Rather than giving up, Robert signed up for an Access to Higher Education course, although challenging at first, he soon rediscovered his drive and love for learning. Within a year he had been awarded an Access to Higher Education Diploma in Science, several scuba diving qualifications, and an offer to study a BSc Marine Biology degree at Bangor University's School of Ocean Sciences.
Robert said:
"My decision to come to Bangor was a very personal one. It was the amazing scenery that first caught my attention, and small rural feel and the geniality and warmth offered on the open day that solidified my choice. It immediately felt like home. I think this was a great reason to choose it, as it hardly even crossed my mind to go elsewhere for my Masters. Bangor was just always a natural choice for me.
"During both my undergraduate and postgraduate degrees I worked at the University's Study Skills Centre as a Peer Writing Mentor. Writing is one of the things I am quite good at, so it was great to able to share my skill with others and see them develop. I was also very lucky that it was a job designed for students, so it was part-time and very flexible, never interfering with my studies. In fact, it was a welcome distraction at times and I learned a lot there; I became a better teacher, a better writer, and a more rounded student with a wider breadth of knowledge across the disciplines.
"During my postgraduate course I visited Denmark and Canada on research trips. Central Denmark in the early summer is beautiful and had an incredibly friendly and welcoming community. Atlantic Canada was freezing in January, but an exciting place with unforgettable characters. I was told that if I liked it in the winter, I would love it in summer, and so I decided to find out and it was on that trip that I met my now PhD supervisor."
Robert now works and lives in Halifax, Nova Scotia in Canada and his five year goals are to finish his PhD in marine biology, get qualified as a diving instructor, and become an honorary Haligonian.
Publication date: 20 July 2017