Student Profile: Mark Barrow – History with Journalism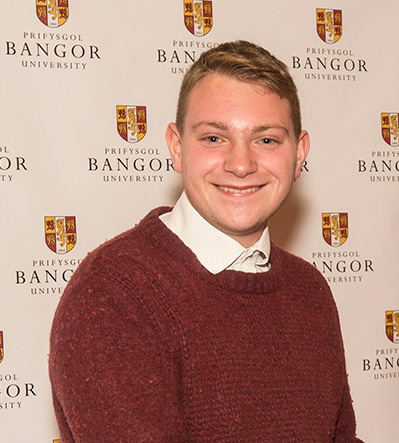 Mark Barrow
Mark Barrow from Oldham, Greater Manchester is a second year History with Journalism student.
Why choose Bangor?
My course was very select, Bangor being one of only around fifteen universities to offer it. I was already familiar with the area however, and knew that Bangor, and North Wales generally, was a stunning location, filled with lots of outdoor opportunities. After reading more about the University, I quickly realised that it has an excellent reputation, especially in terms of assisting students – clubs and societies are free to join, for example. It completely fitted my aspiration of studying at a leading institution in an attractive area.
The course...
My course is a joint-honours one, which means I combine two subjects. My 'home school' is History, which means I study two History modules per semester, and one Journalism module. It is a very enjoyable and enthusing course, allowing me to learn skills in two very different, but relatable, disciplines. I have the choice of studying the type of history that suits my interests the most, so modern and contemporary history. The journalism side provides me with the practical and theoretical approach to writing news articles, which clearly benefits me as my aspiration is to become a journalist.
All my lecturers clearly have experience and enthusiasm for what they teach. There is a very good connection between staff and students in History especially. I am a course rep, which means I am the student voice for the school, and members of staff have always responded favourably to suggestions put to me by students.
The History school always attempts to assist students in any way possible. The staff are happy to help if you have any concerns, and lots of support is given when it comes to completing assignments. Lots of extra things are organised too, such as the Christmas Party, and there is lots going on during Welcome Week.
Time abroad...
I have applied to take part in a summer school placement next year in South Korea, which would include me teaching English to Korean children. There are lots of opportunities to study or work abroad. I previously had an Internship in the Psychology department. This comprised of we writing news articles for that school's website, usually regarding research that members of staff had carried out.
Highlight of your course...
Becoming a course rep as it has enabled me to get to know staff and fellow students really well, and I have enjoyed helping out wherever possible. For instance, I'm currently organising a student-led trip to Berlin and Krakow. I have also been encouraged in my studies by consistently achieving high marks during my first year.
Best thing about living in Bangor?
The local opportunities and attractions. If you enjoy being in the 'great outdoors', you couldn't be at a better institution. The Snowdon national park is a bus ride away, whilst the clubs and societies take full advantage of the Menai Straits.
What will you miss about Bangor when you leave?
The university experience as a whole, but also the surrounding location.
Plans for the future?
I aim to study a Masters at Bangor after completing my undergraduate study. My long term prospects are to become a print journalist.