Bangor University subjects join elite in world table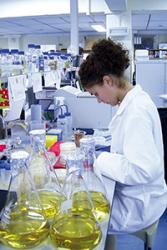 Newly published analysis of the latest influential QS World University Rankings, which saw Bangor University soar to 411th position worldwide, now provides further information on rankings for different subject areas among the world's best universities.
Six subjects and one subject area taught at Bangor University feature among the world's elite universities in this year's release of the QS World University Rankings by Subject, with Agriculture and Forestry appearing in the top 100 institutions worldwide who teach the subject and fourth in the UK, and rising from among last year's 200 top Universities.
Bangor's School of Psychology is placed in the top 200 psychology faculties worldwide (and 30th in the UK). Environmental Sciences is placed in the top 250, placing it 25th among UK Universities ranked while Bangor's School of Linguistics appears in the top 300 and 32nd in the UK, and Biological Sciences and Medicine appear in the top 500 worldwide and 37th and 40th in the UK respectively. The Life Sciences and Medicine subject category, which includes 6 sub- areas also appears in the top 500, and 35th in the UK, which provides an excellent platform for future developments in this area.
The subject rankings consider research and international reputation, and universities need to meet strict criteria to be included in the tables. This year, 30 subjects taught at Bangor, met those criteria.
Professor Jo Rycroft-Malone Pro-Vice Chancellor for Research & Impact at Bangor University commented:
"Institutions are measured in this table by responses from their academic peers and from employers, and on the number of research papers published and cited, so our increased profile in this year's rankings reflects the growing influence of our researchers.
Particularly gratifying is that an analysis of the data reveals that Bangor University's academic reputation appears to be steadily improving across most subjects, with 18 subjects having improved their scores this year.
The fact that we've increased the number of subject included in the list shows the breadth and depth of high-quality research and impact at Bangor University, and re-emphasises our position on the world-stage."
The QS Subject Rankings were launched in 2011 and provide a guide to a range of popular fields of study in universities around the world.
Publication date: 8 March 2017