Dr Ian Robinson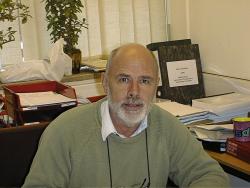 Dr Ian RobinsonDr Ian Robinson, Director of the University's Centre for Arid Zone Studies (CAZS) between 1993 and 2005, has died aged 72 after a short illness. After a PhD in Bangor under Professor Lucas, he, along with other staff of the Arid Zone Unit in the Department of Agriculture, helped set up the Hofuf Agricultural Research Centre, the first of its kind in Saudi Arabia. After a move to Aberystwyth and a period as a consultant, Ian returned to Bangor in 1985 as one of the original staff of the ground-breaking Centre for Arid Zone Studies, set up by Gareth Wyn Jones and Tony Chamberlain.
Here he specialised in overseas missions to war-torn and post-conflict countries, particularly in the Horn of Africa but also to Kosovo, Iraq, Afghanistan and others, carrying out food security assessments and consultancies for a range of international organisations including FAO, WFP, the World Bank, and major charities and NGOs. For these, Ian developed rapid scoring systems to assess crops and livestock, initially using photographs in ring binders but latterly mobile apps.
During this time Ian drove the development of Mekele Agricultural College in Tigray, northern Ethiopia, into a fully-fledged University, and was involved with other capacity building in Syria and the Philippines.
Ian insisted on doing things his way, including living with the communities he worked with, often in conditions of discomfort and danger. This was particularly so when Eritrea was fighting for independence from Ethiopia. In villages in Tigray, in the middle of the war zone, he provided advice to farmers, developed extension materials for illiterate farmers, physically helped with machinery repair and soil and water conservation, and demonstrated ways of raising crops and livestock that were hard to spot by patrolling DERG aircraft. Once, the next vehicle to his in a UN convoy was blown up by a landmine, killing one of his colleagues, an experience that he never forgot. He is well remembered – on a recent visit to Ethiopia a mention of Bangor led to "Ah, Robinson!" and stories of how, when travelling, he would stand in the back of open vehicles the better to see what was growing or grazing around him.
Never really comfortable with the University hierarchy, Ian left Bangor in 2005 to set up his own consultancy, along with a non-profit company, in Aberystwyth. He continued with a large number of overseas missions (several hundred over his lifetime, to around 70 different countries). During one of these, to Uganda, he felt the first signs of his illness, and he died of acute myeloid leukaemia shortly after his return. There can have been few Bangor staff members who have been more selflessly dedicated to, and done more to improve the lives of, so many often forgotten people in so many countries.
Publication date: 25 October 2017