First class degree for Zoology graduate Emilie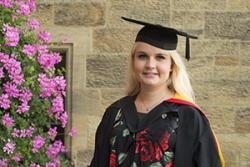 Despite facing some criticism about her decision to pursue with her studies, a Bangor University student will be graduating with a first-class degree this week.

Graduating in BSc Zoology with Molecular Ecology, Emilie Pearson is currently enjoying her first post as a graduate in Cusuco National Park in Honduras. But the last three years have been emotionally challenging for Emilie.

Emilie, 23 from Hertfordshire, discovered that she was pregnant a few days before moving to Bangor.

Emilie said: "I planned to come to Bangor in 2010 straight after my A levels, however 3 days before I was due to move up I discovered I was expecting my son, not quite the plan I had in mind at 19! However, after a lot of deep thought and discussion with my family, we decided it was best for both of us that I still got a university education. With their amazing support, I was still able to come to Bangor the following year to complete my degree.

"As soon as I visited Bangor and saw how beautiful it was, and how many opportunities there were for Zoology students, the choice was obvious, I HAD to go there, nowhere else would do!

"I had a tough time at school, I hated it and it hated me! I couldn't wait to leave. I thought I just hated learning but that all changed when I went to college and then to university, as soon as I was focusing on what I was interested in I loved it!"

Emilie visited Florida, Arizona and Tenerife on field trips during her degree. She had saved up by working every Saturday whilst at college in order to fund these trips.

"During the summer after 2nd year I was lucky enough to gain a work placement in Scotland, working with a company to help monitor the cetacean life as well as provide tourist trips to see the local wildlife. I was also taken on that summer as a volunteer at the Cambridge museum of Zoology as a collections conservation assistant. I plan to go back once I return from Honduras.

"My son, Oscar, for the vast majority of my time at university lived with my mum back in Hertfordshire. While he came to visit and stay with me lots, and I was able to go home a lot due to the excellent train connections from Bangor, it was a real strain being away from him, and at times I thought about quitting so I could go home. I also came up against some criticism from other people who said I shouldn't be studying, but should just be at home and focusing on being a mum, which made things difficult. However, knowing I was working hard for the both of us to try and give us both a better future inspired me to keep going, and as I found out it was all worth it!

"None of my success would have been possible without the incredible support of my wonderful family, especially my mum who encouraged me to attend university in the first place, and to keep going even when times got tough. I was also lucky to have brilliant support from my friends and lecturers at university. I owe everything to them."

Following her return from Honduras and gaining further work experience, Emilie hopes to study for a PhD.



Publication date: 24 June 2014