PhD student wins award
A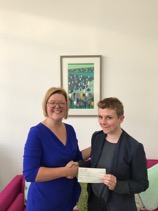 Bangor University PhD student has beaten hundreds of candidates to win an award helping break new boundaries in the well-being of livestock.
Charlotte Pritchard has received an award of £300 from Gradconsult, which will help examine lambing mortality rates in the sheep industry.
Charlotte, a graduate veterinary surgeon, who originates from Perthshire, and who is doing a PhD looking at the upland sheep industry, is celebrating after becoming one of the six winners, of a grant from Gradconsult, a Sheffield-based specialist in graduate recruitment, learning and development.
The grants, chosen from over 300 entries, are to help new researchers and early career academics get a 'head start' with funding bids, thereby giving them a track record to go on and secure larger funding bids to conduct research in their field.
Charlotte, who is 23, used her own experiences working in Scottish farming to drive her on in her research.
Working on Scottish upland farms in the lambing season during weeks of torrential rain, she noted that on some days almost half of the lambs died of hypothermia.
"There are not only the severe financial repercussions but also the human cost of losing animals under your care," she said.
She had lectured abroad about her work as a lambing technician, and is working on starting an international education exchange and lecture annually at Ghent University, in Belgium.
She will use the funding to keep the initiative going, whilst also looking for more sustainable funding.
Rebecca Fielding, Managing Director of Gradconsult welcomed Charlotte's achievement. "It is a truly admirable project, which offers great insight to the farming industry and all who care about the welfare of animals."
She added that the grants were much needed for some of the UK's best young minds.
"We see in great detail the value of research in higher education, and know how hard it can be as a new researcher or early career academic to get projects funded when you don't necessarily have a track record," she said.
"We invited those individuals who have the imagination to make a difference, and were truly taken aback with the huge response, which showed how much passion is behind these projects," she said.
The applications were open to PhD students, post-doctoral researchers with less than three years' experience, as well as academic/lecturers with less than three years' experience. It was also open to work in any field.
Charlotte and the other applicants met each other when they visited Sheffield, the headquarters of the Gradconsult team during May to receive their grants.
"It's been an honour to meet these individuals and we hope that the Gradconsult Microgrant programme will be the launch pad for life-changing projects for generations to come," Rebecca added.
Publication date: 1 June 2018