The best of (pri)mates!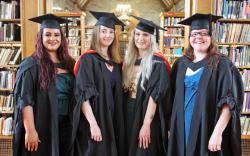 L-R: Ella, Brogan, Sophie and LandryFour students who bonded over a shared passion for primates will all graduate together this week, having had an adventure-packed time during their undergraduate degrees at the School of Natural Sciences.
Melissa Landry Green, Brogan Mace, Ella Ronan and Sophie Berry have all followed zoology-based degrees and the foursome's active participation as founding members of the Bangor Primate Research Group has fed directly into new BSc (Hons) and MZool Zoology with Primatology degrees, set to enrol their first students this in September.
The four are from different areas of the UK, vary in age and academic background but were all drawn to Bangor by the provision, the location and the opportunities for further research. Once here, they found that they shared a common interest in the study of primates – an interest that has shaped their entire university experience and also has the potential to shape their future careers.
Here's what each had to say about their time in Bangor:
Melissa Landry Green, 36, from Ballymena:
"I spent 15 years working in retail and admin before deciding to change my career and apply to university. I chose Bangor because of its wide selection of zoology degrees and it's such a beautiful place to study, with its coasts, woodlands and mountains. During my four years here, I visited Corfu with the Herpetology Society and visited Arizona and Uganda for field courses, which remain as absolute highlights. Seeing chimpanzees in the wild was an incredibly moving experience for me and one I will never forget."
Brogan Mace, 23, from Lowestoft:
"I've always had an interest in animals and realised early-on that I also enjoyed academia and learning. To me, university was a natural progression from A-Levels and when it came to choosing where to go, the fact that Bangor has two primatologists, the primatology module and the research group, was really quite amazing. Even outside of my degree, I absolutely loved the volunteering opportunities that I had, such as beach cleans and serving teas to the elderly at Christmas and Easter. Like many others, I had some issues with confidence and anxiety during my studies but the support I received from the Bangor Primate Research Group really helped me cope with all that and, as a result, I became more independent and my confidence grew."
Ella Ronan, 22, from Chelmsford:
"I originally went to college in Essex to study fine art, another passion of mine. Looking back, it was obvious then that my true interest was primates as most of my work consisted of chalk pastel drawings of great apes! After a summer working in an animal rehabilitation centre in South Africa, I decided that I wasn't going to continue with the fine art course and that I'd transfer to Writtle University College to study two years of animal management. A lot of my lecturers there were Bangor graduates and hearing them talk about the facilities and the area really informed my own research into potential universities. I fell in love with the place immediately upon visiting! During my time here, I visited India and looked at the primate-tourist behavioural responses of Bonnet Macaques in Karnataka. The trip was completely incredible and will stay with me forever."
Sophie Berry, 25, Dorset:
"I have always been drawn to so-called 'ugly', overlooked and misunderstood animals like invertebrates and lizards, which lead me to have an interest in herpetology. Once at University I learned more about animal behaviour and their cognitive abilities and was quickly drawn to primates, as many studies have shown these species to be capable of behaviours and cognition similar to humans. On a personal level, I am not the most confident or social of people and have struggled with this in the past. Being at university allowed me to gain more confidence within myself in both a professional and social way and it's something I'll carry with me as my research career develops."
Congratulating the new graduates, School of Natural Sciences lecturer and primates expert, Dr Isabelle Winder, said:
"I've been amazed by how much passion our first cohorts have brought to their topics, and the sheer variety of interests and skills they are developing along the way! Even at this early stage, they have produced novel projects on climate change impacts on monkeys, primates and disease transmission, the ape origins of psychosis and the evolution of human-like behaviours and social emotions - a fantastic spread of areas, and all with the potential to affect how we interact with, conserve and understand our close primate relatives. All four are also to be congratulated for their excellent grades and wider achievements at Bangor. They've been an absolute pleasure to have as members of our new research group and I look forward hopefully to working with them again in future!"
Looking ahead to the future, Melissa hopes to study for a PhD related to primates; Brogan intends to gain some practical fieldwork and writing experience before embarking on a PhD; Ella will commence on a research masters course at Bangor in September, focussing on the evolutionary origins of bipolar disorder and schizophrenia, while Sophie hopes to continue her research by undertaking a PhD.
Publication date: 19 July 2019