Bangor's elite athletes awarded Sports Scholarships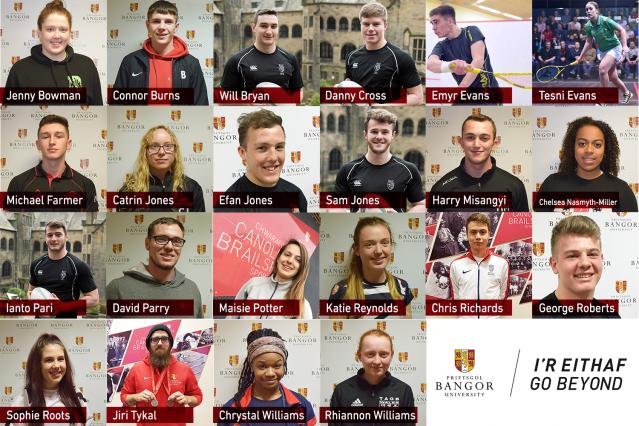 Every year, Bangor University supports students with sporting ability by offering a number of Sports Scholarships for students studying for a degree in any subject area.
These Sports Scholarships are awarded to recognise and support sporting excellence and achievement. They are aimed at helping talented and high performance students to combine their academic study and sporting performance to assist them in achieving their full potential.
Richard Bennett, Director of Sports, said: "Following the extensive investment in facilities, we are very pleased to also be able to expand the number of sports bursaries awarded. The athletes will also benefit from a partnership with colleagues from the School of Sport, Health and Exercise Sciences who will be offering tailored one-to-one support to athletes during the next 12 months.
"Since the University developed a partnership with Rygbi Gogledd Cymru (RGC) 3 years ago, talented rugby players identified by RGC have been able to progress into higher education whilst being able to continue to play rugby at high level and remain in north Wales, thanks to the Sports Scholarships."
This year saw 18 students receive scholarships totaling £33,000 for a wide range of sports. The students to benefit from this year's Sports Scholarships are:
Catrin Jones, 18, Bangor - Weightlifting
Michael Farmer, 18, Caerphilly - Weightlifting
Emyr Evans, 21, Rhyl - Squash
Chrystal Williams, 22, Bolton - Powerlifting
Sophie Roots, 19, London - Judo
Christopher Richards, 19, Kendal - Mountain Running
Katie Reynolds, 23, Swansea - Orienteering
Jenna Bowman, 23, Northern Ireland - Netball
Catrin Jones won this year's BBC Wales Carwyn James Young Sportswoman of the Year 2017 award and has recently been selected to represent Wales at the 2018 Commonwealth Games, commented: "The support I've received from Bangor University over the last few years has been incredible! The Sports Scholarship that I was awarded as a local bursary whilst I was at school, and now as a Bangor student has benefitted me massively as it allows me to concentrate on both my studies and training to the best of my abilities. I also have access to excellent training facilities and coaching at Canolfan Brailsford."
The following talented athletes received a Sports Scholarship for a further year:
George Roberts, 19, Wrexham - Rugby
Efan Jones, 19, Wrexham - Rugby
Danny Cross, 20, Wrexham - Rugby
Sam Jones, 20, Llanidloes - Rugby
Will Bryan, 21, Caerwys - Rugby
Ianto Pari, 21, Aberdaron - Rugby
Chelsea Nasmyth-Miller, 21, Harpenden - Lacrosse
Rhiannon Williams, 19, Llantrisant - Tae-kwon-do
Jiri Tykal, 25, Czech Republic - Kayaking
Harry Misangyi, 20, Conwy – Weightlifting
Harry Misangyi, also selected to represent Wales at the Commonwealth Games, said: "The Sport Scholarship supports and enables me to focus more on studying and training, giving me the best chances of performing at the highest standard. Bangor University has been very good in assisting me over the past year whilst I have been trying to gain selection for the 2018 Commonwealth Games, and now that I have been selected, my focus turns to achieving the best that I possibly can for my country in Gold Coast in April."
The scholarship programme is part of a wider commitment to raise the profile and reputation of the University through sport.
Additionally, each year Canolfan Brailsford awards bursaries to elite athletes from the local community. This year, these were awarded to Tesni Evans from Rhyl who is a professional Squash player ranked 14th in the World; Maisie Potter from Bangor, a snowboarder narrowly missing out selection for Team GB selection for 2018 Winter Olympics due to an injury; Dave Parry from Caernarfon, a Tennis player ranked number 1 in Wales; and Connor Burns from Bangor, Welsh Boxing Champion and part of the GB development squad.
Related stories:
Strong Bangor University contingent at 2018 Commonwealth Games
Bangor Psychology Student wins BBC Wales Young Sportswoman of the Year 2017 Award
Publication date: 9 January 2018