Impact Case Studies
Showcasing the range of impact case studies submitted by Bangor University's College of Human Sciences.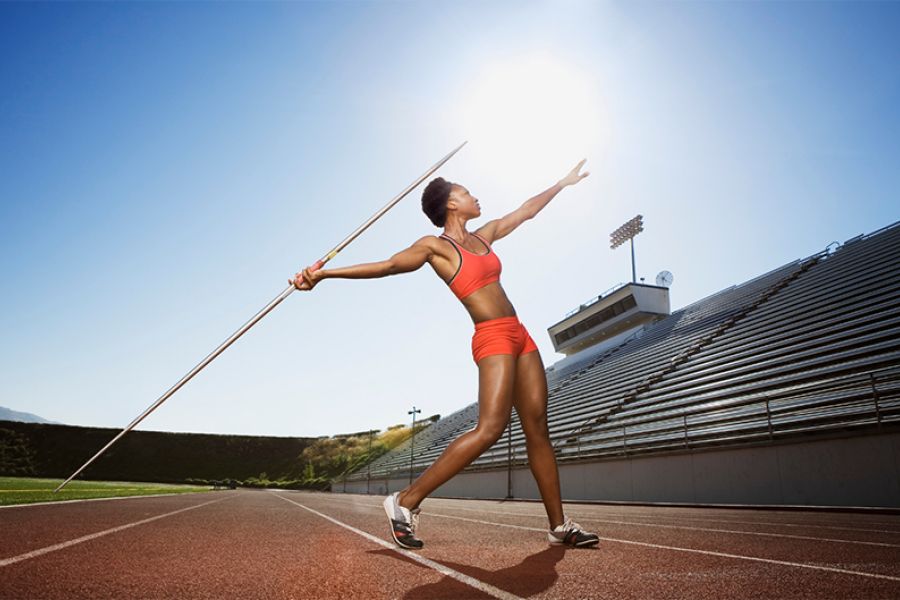 REF 2021 IMPACT CASE STUDY The Great British Medallists Project
Research led by Bangor University to understand the development profile of UK Sport's most successful athletes, with changes implemented to athlete development through their conferences and forums.
Our Research Themes
Our research is highly inter-disciplinary and distinguished by its impact on policy, health and social care service provision and clinical practice.  Researchers in the College of Human Science are making significant contributions to our understanding of the basic mechanisms of psychological and physical illnesses across the lifespan and to the development and evaluation of interventions at the level of individuals, health services and communities in public health. Our major themes include:
Illness, recovery and rehabilitation
Cognitive neuroscience, and how the brain controls behaviour
Activity, exercise and performance across the life-span
Service-use, interventions & evaluation
Lifestyle, creativity, technology and consumerism
Teaching, leadership, life-long learning and bilingualism
The College of Human Science's research spans the diversity of research endeavours to improve health and well-being. Its strengths include the oncological drug development and molecular therapeutics, the physiology of cardiovascular and musculoskeletal diseases, neuroscience of developmental and social disorders including autism and dyslexia, as well as human health and performance in extreme environments. Complementary work to address health challenges and improve peoples' lives include rehabilitation following brain-injury and limb injuries/disorders, innovative interventions based on creative arts, programmes to caring and online interventions for informal carers, early educational interventions in Wales, the United Kingdom and lower-middle income countries. Other areas of excellence include the economics of health and pharmaceuticals. This work is underpinned by further excellence in the evaluation of complex interventions, service development, cognitive neuroscience, bilingualism and behaviour change as well as oncological drug development and molecular therapeutics.
In the most recent Research Exercise Framework (2014), 82% of the School of Psychology's research papers were judged as world-leading or internationally excellent; 73% of their impact cases were judged world-leading and 27% internationally excellent. In the School of Health Sciences' research papers, 40% of outputs were judged world-leading and 52% internationally excellent while 100% of their impact cases were world-leading or internationally excellent. Finally, 80% of the School of Sports, Health & Exercise Science's papers were judged either world-leading or internationally excellent (24% and 56%) and  67% of impact cases world-leading and 33% internationally excellent. The School of Sport, Health and Exercise (with Cardiff Met) was ranked 7th in the UK for research quality and research power (which takes account of the volume as well as the quality of research) within the Sports Science sector (Times Higher Education, December 2014).
Research Highlights
---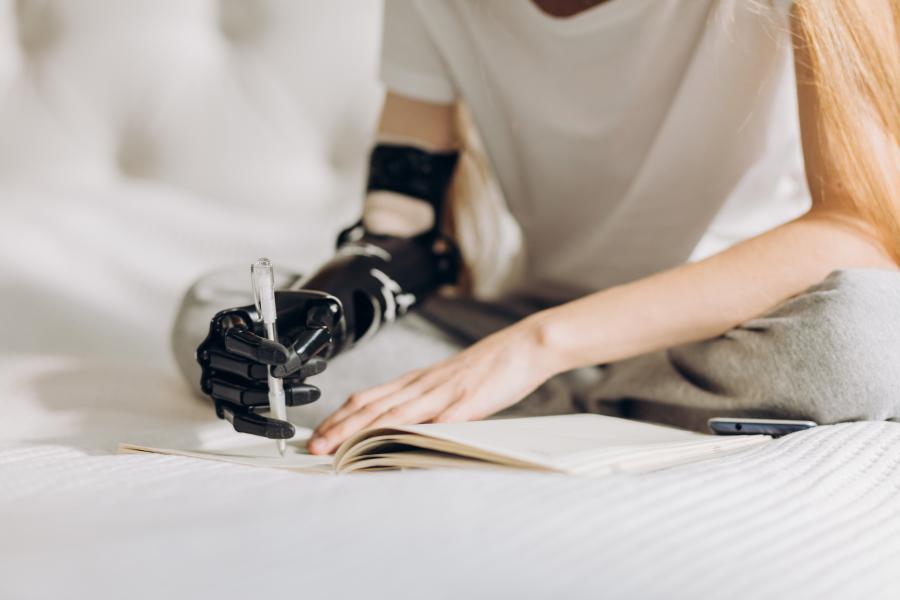 Improving child prostheses, and rehabilitation of peripheral nerve injuries, using movement science
- Ken Valyear [PI], Simon Watt (Bangor University) and Ambionics (CEO and founder, Ben Ryan)
Valyear and Watt have won a Sêr Cymru Enhancing Competitiveness Infrastructure Award to develop upper-limb prostheses for young children that work better and are easier to use.
Valyear and Watt are combining their expertise in movement science with a social enterprise developer of innovative individualised upper-limb prostheses for young children (www.ambionics.co.uk). The work addresses a major 'roadblock' particularly in developing prostheses for children, which is a lack of knowledge about natural, everyday hand and prosthesis movements - as opposed to the typical constraints of laboratory studies. An important objective will be to identify the basic sensorimotor principles that make prostheses intuitive for children, and use these principles to develop better prostheses partnership with Ambionics' and their UK users. New designs will then be evaluated in real-world use, in the UK and abroad.
Research Highlights
---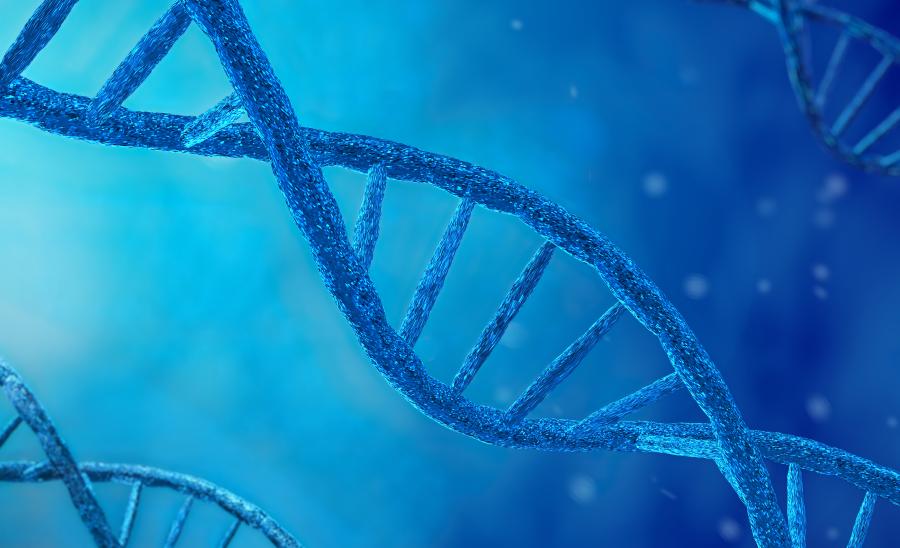 DNA stability and repair
- Dr Chris Staples
All cells must replicate their DNA before dividing, via what is a precarious process – indeed, errors in DNA replication can lead to genomic changes and ultimately, cancer. Such errors arise during replication stress, which is defined as any cellular stress that can impede the formation of newly-replicated DNA. In fact, many chemotherapies function by causing replication stress and inducing toxicity in cancer cells. Therefore, cellular mechanisms to deal with replication stress can function to prevent cancer, but can paradoxically help established cancer cells survive treatment, leading to poor patient outcomes. One of the ways that replication forks avoid stress is to physically reverse direction, and in doing so they create a 4-way structure often compared to a chicken foot. This creates a new DNA end that is vulnerable to destruction by a DNA-digesting protein called MRE11. Here, proteins that function to repair broken DNA – such as the tumour suppressor BRCA2 – also act to protect the newly-formed DNA from MRE11. We have identified a novel protein called MRNIP, which binds to MRE11 and inhibits its ability to digest DNA from the end of the strand. When we removed the Mrnip gene from the genome of cancer cells using a novel technology called CRISPR, we found that the cells were sensitive to multiple chemotherapies and had higher levels of DNA damage as well as increased degradation of newly-formed DNA. Inhibiting MRE11 chemically reversed this effect, telling us that MRNIP functions like BRCA2 to protect the DNA ends of reversed forks. We are now embarking on a UKRI-funded project to map how MRNIP binds to MRE11 using cryo-electron microscopy, and to determine the importance of MRNIP loss in various cancer models. Our findings reveal an exciting new gene, the status of which should be considered in future personalised medicine profiling of cancer patients.
Research Groups: Health and Medical Sciences
We aim to conduct research of the highest standard, with UK and international impact and to contribute to improvements in local health and healthcare. The School hosts Bangor University's Institute for Health and Medical Research (BIHMR) comprising 6 key research groups:
Centre for Health Economics and Medicines Evaluation (CHEME)
This group has an international presence in health and pharmaceutical economics. CHEME has an extensive track record of securing funds from the NIHR and MRC to support its applied and methodological research into the economics of medicines, other health technologies and psychosocial interventions, and public health, related to core funding from HC & R Wales. 
North Wales Organisation for Randomised Trials in Health (NWORTH)
NWORTH is a UK-registerd clinical trials unit with particular expertise in complex interventions. NWORTH's mission is to improve the health and well-being of the people of Wales and beyond by carrying out robust empirical research using experiment designs in health and social care.
North West Cancer Research Institute (NWCRI)
Researchers in this group support a strategic collaboration between the University, Welsh Government and North West Cancer Research (NWCR), with an aim of conducting basic and translational research into the aetiology, progression and treatment of cancers. In the current assessment period the five research teams within the unit attracted approximately £6.2M in funding from charitable, governmental and industrial sources, including a 2019 future-orientated £1.8 M Future Leader Fellowship award.
North Wales Centre for Primary Care Research
North Wales Centre for Primary Care Research aims to conduct high-quality primary care research that impacts upon clinical practice and health policy. We are a team of 18, including clinical academics, senior lecturers, researchers, social scientists, methodologists, administrative staff & PhD students. Our main strategic areas are: Timely diagnosis of cancer & cancer survivorship in primary care; Musculoskeletal and rehabilitation research and Palliative and supportive care research.
Public Health Collaborating Unit (PHCU)
Public Health Collaborating Unit (PHCU) is an initiative that was funded by Public Health Wales from 2016 and links to the World Health Organisation Collaborating Centre on Investment in Health and Wellbeing. Its current focus of activities include:
1) adverse childhood experiences 
2) public engagement in public health issues (e.g. health-related opinions, NHS dental contract reform)
3) health-harming behaviours (e.g. gambling, alcohol and physical inactivity).
Dementia Services Development Centre Wales (DSDC)
We have an international reputation for interdisciplinary ageing and dementia research. Major funders include the MRC, ESRC, AHRC and NIHR. DSDC lead Bangor University's contribution to the Wales Centre for Ageing and Dementia Research (CADR), a £2.8m collaboration with Swansea University, and part of the broader research infrastructure in Wales, funded by Health and Care Research Wales. Our main strategic areas include: living as well as possible with chronic and degenerative health conditions; supporting family carers; health and care service improvement; the arts in health and social care.
Research Groups: Psychology
The School of Psychology at Bangor is a world-leading research centre built around two overarching approaches. The first is pioneering research in cognitive neuroscience techniques and applications where we seek to understand brain mechanisms underlying normal and disordered behaviour. Second is the application of interventions to promote mental wellbeing in children and adults. Some of our most important research in terms of societal impact looks at systematic interventions for improving children's lives, by targeting the behaviour of parents, teachers, and peers. A core theme is rolling out these interventions at scale. Our research is organised into four main groups, indicated below. Researchers have the freedom to explore the topics of importance to them, and many opportunities to share their expertise, and so there are many collaborations and interactions between groups.
Perception and Action Group
This group works at the interface of psychology, engineering, biology and medicine, with the goal of understanding how people extract information from the environment, and then use that information to guide their actions. The group is therefore very much interested in brain and nerve function. Recent projects include working with hand surgeons to better understand recovery from peripheral nerve injuries; work to improve the usability of prostheses for young children; investigations on how to improve the information people can gain from their hearing even when hearing-impaired; and ways to decode a person's intentions from online recordings of their brain activity. The work of this group makes extensive use of Bangor's cutting-edge facilities in cognitive neuroscience, including our in-house fMRI brain scanner; magnetic stimulation coils to test peripheral nerve conduction; EEG, or electroencephalography, to record the brain's electrical activity; and 3D body motion cameras to track a person' actions. Reflecting the diversity and societal value of the group's work, it has received recent support from a range of funders that includes Wellcome, Leverhulme, Marie Skłodowska-Curie, and the Welsh Government.
Researchers in this group use a variety of behavioural, neuropsychological, and cognitive neuroscience methods to study the interaction of language and cognition across the lifespan. This includes basic and translational research with monolingual and bilingual infants, children, and adults. The group has made important advances in linguistic theory, showing how language shapes cognition; and understanding the different communication strategies used by multilinguals in single and multilingual environments. Several streams of their research combine novel theoretical insights with direct educational and clinical implications, showing that certain aspects of literacy are universal across languages, and that readers with dyslexia use different learning strategies compared with typicals. This includes a multilingual language assessment battery of early literacy (MABEL), currently translated into six languages, and rolled out in several European countries. Recent support has come from the ESRC, Marie Skłodowska-Curie, and the Welsh government.
This group investigates how we perceive, understand, and interact with other people in our social world. A key objective is to understand the neural and behavioural mechanisms underlying normal and disordered social function. Many key questions for this group relate to person perception: What information is conveyed by people's faces, bodies, movements, and voices, and how do other people respond to this information? How do we perceive ourselves in relation to other people? Research in this group also investigates what happens in our brains when we observe social interactions between people, and even between people and robots. A key finding is the discovery of specific neural structures involved in person perception and in observing social interactions. Another focus of the group is on developing new theoretical framework for understanding social cognition and its relation to more general cognitive and brain processes involved in semantic cognition and control of action. Recent funding for this group has come from the ERC, ESRC, and Welsh Government.
Interventions, Well-Being, and Clinical Psychology
This group creates and develops research to understand and improve people's well-being.  There is a strong focus on behaviour change and targeting research to those who are vulnerable. This includes developing real-world interventions to reduce violence against children in schools (in the UK and globally); to improve the diet and exercise habits of young children; to promote effective parenting methods; and to develop coping strategies for those with substance abuse and related issues. Our research in health psychology addresses the social, cognitive, motivational and emotional influences on a range of behavioural and health outcomes amongst patient, carer and general populations All these lines of research are interested in direct, psychological and training interventions, to help individuals and small groups better face specific challenges. A different approach to research that improves lives is through the use of "big data" to better understand the social, political, and psychological context, of Wales and beyond. This work uses sophisticated statistical and geospatial analyses to understand differences and inequities in mental health at regional and national levels. Recent funding for this group has come from the MRC, Wellcome Trust, Marie Skłodowska-Curie, and NIHR.
Research Groups: Sport, Health and Exercise Sciences
Our mission is to guide the future of sport, health, exercise, and human performance science.
Our objective is to advance the global reputation of our impactful research. Our strategies to achieve this mission and objective are to:
i. Support a culture that values multidisciplinary collaboration enabling world leading research, innovation and enterprise to flourish.
ii. Support the maximisation of talent to continue to develop the next generation of "world leaders" and knowledge that challenges the status quo.
iii. Increase visibility and impact of our world-leading research within and beyond academia by fostering partnerships with business and enterprise.
iv. Continue to support a vibrant and cohesive postgraduate research body and valuing the contribution they make to the School, academia, and beyond
Our researchers are organised within two groups:
Institute for the Psychology of Elite Performance
The Institute for the Psychology of Elite Performance (IPEP) develops world-leading research that informs performance excellence in all domains where performance excellence is central.  Its vision is simple: To be recognised as the world leader for research into the psychology of elite performance. We are uniquely placed to integrate the lessons learned from performance-focused domains to understand, and positively impact, the psychological factors that underpin elite performance.
Institute for Applied Human Physiology
The Institute for Applied Human Physiology (IAHP) mission is to advance applied physiology knowledge with the purpose of improving human performance and health. Our staff pursue this mission under three key themes: Sport Performance; Preventative and Rehabilitative Medicine; People and the Environment. We explore these themes by studying the integrative changes in neural, endocrine, metabolic, renal, cardiovascular, and respiratory physiology to exercise, disease, and the environment.