The Confucius Institutes' Wales China Schools Forum explored the opportunities and the challenges of teaching and learning Mandarin in the Digital Era
On Thursday 19th November 2020, Educators across Wales came together in an online forum to share experience and discuss innovative methods for teaching Mandarin digitally.
The Forum received an encouraging video message from Kirsty Williams, the Minister for Education from the Welsh Government.
"At this time in an ever-changing world, the ability to maintain cultural and educational links between nations is a great strength. We often hear people talking of cultural barriers, but in my view, it is a culture that also has the power to unite and serve as a bridge between people. It nurtures understanding and tolerance, and it widens horizons.
Through the global futures plan, and working together with you, our Confucius institute partners, Wales has provided a wealth of opportunities for school children across the nation to engage with Mandarin Chinese and to learn about Chinese culture and tradition. In Wales, we are a welcoming country and thoroughly enjoy being a multicultural nation. We really value the diversity that Chinese students, academics, and the community bring to Wales, and we want to make people feel valued and welcome. We want Wales to be your second home when you are not in China."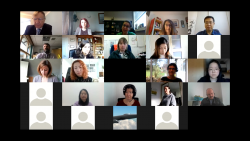 Throughout the morning the delegates saw inspiring talks on the development of the new curriculum for Wales, learned more about the role of Global Futures in supporting schools across Wales and joined in a discussion on the challenges faced by schools when moving to teach online. Representatives from Confucius Classrooms across Wales showcased their successes in engaging students learning Mandarin in both primary and secondary schools. Everyone enjoyed inspiring poem recital and song performances from students displaying their excellent language skills.
The three Confucius Institutes in Wales work with over 50 schools across Wales, 19 of which are Confucius Classrooms acting as hubs for other local schools. The number of young people learning Mandarin language and acquiring an understanding of Chinese culture in Wales has been increasing steadily. Currently, over 10 000 students are learning Mandarin with the Confucius Institutes.
Professor Iwan Davies, Vice-Chancellor for Bangor University, said:
"I am delighted that the Confucius Institute at Bangor University is hosting the first online Wales-China schools forum. I would like to express my message of support for the programme as it encourages an understanding of the place of Wales in the World and also creates numerous opportunities for students in primary and secondary schools to develop enhanced linguistic skills, acquire knowledge of the intangible value of an ancient culture, and benefit from an inclusive cultural discourse.
I am happy that the Confucius classrooms in Wales are keeping in high spirits and with the help of the Confucius Institute managed to develop successful online teaching programmes are also looking ahead to explore and refine the options for expanding the delivery of effective Mandarin teaching across schools."
Publication date: 25 November 2020