Trees spark ambition for busy Forestry entrepreneur!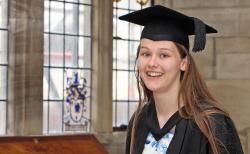 Jemima LettsA student who described herself as being a 'nervous, shy and worried' youngster when she first arrived at university says that, four years later, she's leaving Bangor University as a 'confident, ambitious forester and entrepreneur ready to take on the world'.
Jemima Letts, 22, from March in Cambridgeshire, graduates from the School of Natural Sciences this week with a Bachelor of Science degree in Forestry following a busy four years that saw her overcome health problems, set up an award-winning business and land a placement at one of the UK's most well-known country estates, Chatsworth.
Summer holidays spent at her grandmother's house in Dolgellau, with its surrounding rivers and forests, gave Jemima an appreciation of the outdoors that soon became a passion that guided her towards Forestry. Being one of only a handful of universities that offer a BSc degree in Forestry, Jemima had intended to attend an Open Day at Bangor but was forced to cancel at the last minute. However, after she got in touch with the School of Natural Sciences to explain the situation, they arranged a personal visit for her and her parents, giving them a glimpse of Bangor and the surrounding area and the excellent facilities at the School.
Reflecting back on those early visits, Jemima says:
'When I came to Bangor on a visit day, I was welcomed by everyone I met. The lecturers talked to us prospective students as if we were colleagues and we were all quickly on first-name terms. The School of Natural Sciences seemed more like a family than a department and this is something I still feel to be true after four years of study.'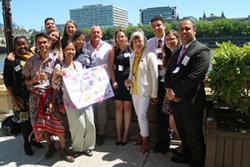 Jemima at the House of LordsDuring her time at Bangor, Jemima made the most of the connections the School of Natural Sciences has with industry and, during her placement year, she volunteered with the International Forestry Students Association (IFSA) and got the opportunity to travel to Rome as part of IFSA's delegation to the UN's Committee on Forestry's biennial gathering. She has also travelled to the House of Commons and the House of Lords after being designated a 'young change-maker' by the Drivers for Change charity.
Jemima was also active in the University's various student societies and currently holds the record for having the highest number of Bangor Employability Award points ever awarded.
It wasn't all plain-sailing for Jemima however, as on the cusp of her placement year, she started experiencing seizures – ultimately keeping her away from her studies for a full year as she undertook hospital tests. Not one to surrender to circumstances, Jemima made the most of her time away to set up Tree Sparks, a social enterprise designed to get young people interested in forestry careers and increase their environmental awareness. With help from the B-Enterprising team at Bangor University, Tree Sparks has gone from strength to strength, scooping up numerous awards in the process.
As a newly-minted Forestry graduate, Jemima will soon commence a year's placement on the Chatsworth Estate in Derbyshire, putting the knowledge she has gained at Bangor in areas such as conservation and land management to good use.
Jemima has high hopes for the future and sees her subject as being more a way of life than a standalone qualification. She says:
'I want to continue working in Forestry for as long as I can. I am keen to become a professional member of the Institute of Chartered Foresters and maybe – one day! – become a fellow of the Institute but most important to me is to be able to continue with my public speaking and keep sharing my passion for trees!'
Related Stories:
Bangor foresters in Westminster
Forestry student reaches semi-finals of national business competition
Tree Sparks goes from strength to strength
Forestry Student Launches Social Enterprise
Bangor Students' Big Ideas
Follow Jemima on Twitter @MimaLetts
Publication date: 15 July 2019