Professor Dermot Cahill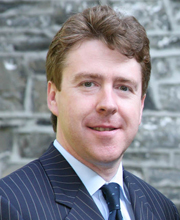 Name

Prof Dermot Cahill

Position

Head of School

Email

becky.jones@bangor.ac.uk (Becky Jones, ICPS Admininstrator)

Phone

2907 (Becky Jones, ICPS Admininstrator)

Location

Aethwy
Head of School
Chairman, Institute for Competition & Procurement Studies, Bangor University, Wales
Professor Dermot Cahill holds the Chair in Commercial Law at Bangor University. A graduate of the College of Europe, the oldest college devoted to European Studies, Professor Cahill is the Dean of Bangor Law School and Founding Director of the Bangor Institute for Competition & Procurement Studies (ICPS).
Regularly consulted by Governments, public bodies and institutions, political parties and business organisations, on public procurement law and process issues, Professor Cahill is either author or editor of several EU Law books including The Modernisation of European Union Competition Law (Ed., Cambridge University Press, 2004) and European Law (co-author, Oxford University Press, 5th ed., 2011). He is a member of the Board of Bangor University's Confucius Institute, the world's first Confucius Institute to have a Law flavour, whereby Bangor and CUPL, one of China's leading Law universities, collaborate in a wide range of cross cultural and Law collaboration, including procurement research collaboration. Professor Cahill specialises in the Laws of the EU Internal Market, and his recent published work has focused on the interplay between EU State Aid, Public Procurement and Competition rules, published in the European Business Law Review.
The Institute Competition & Procurement Studies specialises in evidence-based research into the behavioural responses of public institutions and their suppliers to public procurement policies, laws and practices. At the ICPS, Professor Cahill's multinational, interdisciplinary team has conducted several innovative public procurement projects in recent times, including the €3.7m European Union INTERREG-funded "Winning in Tendering" collaboration, which he leads, between the ICPS, Dublin City University and the Irish Institute of Purchasing & Materials Management.
Winning in Tendering is a major project, examining the impact of the Remedies Directive on purchasers' behaviour; the feasibility of Low Value Procurement; and the development of a Procurer Competency Framework sensitive to SIS and SME vulnerabilities in areas such as e-procurement. Winning in Tendering also examines how to develop a diagnostic toolkit to allow SMEs to self-assess their tender-readiness, and is well advanced in providing an intensive Tender Review Service to SMEs and Third Sector organisations. It is anticipated that many of the insights and outputs from the Winning in Tendering project will be readily transferable to other European countries, and the Canadian Government has already adopted some of the Bangor Tender Review methodology for SISs and SMEs in Canada.
Professor Cahill's early procurement research work started with TenderWise, focusing on how public bodies can take effective steps to increase small indigenous suppliers' (SIS) engagement with public procurement. More recently Professor Cahill's team's latest research projects include an assessment of the quality of procurement feedback processes; the feasibility of a 'quick-decision' Procurement Ombudsman; advising public bodies how to engage in collaborative procurement and organisational chance to accommodate collaborative procurement; and advising public bodies how to dramatically reduce the complexity of their tendering documentation and processes. Currently he is a member of the House of Commons' Inquiry (2013/14) into e-invoicing at the invitation of the UK Conservative Party, and is currently leading a review of UK Government procurement practices at the invitation of the UK Labour Party's Shadow Chief Secretary to the Treasury.
Professor Cahill's most recent major research grant award was €450,000 for the TESLA project (2012), an international 7 partner collaboration involving partners in Germany, France, Netherlands, Belgium and Ireland, researching design and cross-sectoral business concepts that can have transnational application for high performance start-ups (HPSUs) in the European Union. Professor Cahill will collaborate with researchers from the University of Tilburg Law School and the Phillips Eindhoven campus to use existing principles to develop procurement design-penetrators that will enhance the capability of HPSUs to access procurement markets.
Professor's Cahill co-authored the Barriers to Procurement Opportunity Report (with Clifford and Ringwald), which was adopted as Government policy by the Welsh Government in 2011. He was appointed a member of the Wales Business Procurement Task Force by the Minister for Finance, and the Barriers recommendations are currently being implemented by the Welsh Government's Value Wales division which adopted the Report as Government policy in 2012.
A major feature of the ICPS annual calendar is Procurement Week, a major week long event which Bangor University hosts each year in March. Procurement Week 2013 attracted speakers from the European Commission, Russia's Anti-Monopoly Regulator, Canada's Procurement Ombudsman, Sweden's Competition Authority, Danish Procurement Complaints Board, National Procurement Services from Ireland, Scotland, Wales and Northern Ireland, as well as a host of leading procurement lawyers and judges, academic speakers from as far away as the USA, South Africa and India, and leading procurement innovators from around the world, including John McClelland CBE, whose reports on Scottish and Welsh procurement have led to considerable changes to government approaches to public procurement.
Publications
Cahill, D., Connery, N., Kennedy, T.P. & Power, V.(ed.) (2011), European Law, Publisher: Oxford University Press, 1-511, ISBN: 0199541515
Cahill, D. (2010), 'The Ebb and Flow, the Doldrums and the Raging Tide: Single Market Law's Ebb and Flow over Services of General Economic Interest, the Legal Doldrums over Services of General Interest, and the Raging Tide of Article 106(2) (ex Art 86(2)) over State Aid and Public Procurement', European Business Law Review, 21 (5), 629-662
Cahill, D. (2008), 'Competition Law and the Regulation of the Legal Profession in Ireland – Where's the Trouble?', European Business Law Review, 19 (6), 1061-1077
Cahill, D. & Fahey, E. (2008), 'Article 234 & competition law: an analysis of all competition law related preliminary rulings', in Rodger, B.(Ed), Article 234 and Competition Law - An Analysis, Publisher: Kluwer Law International, ISBN: 9041126058