Commonwealth weightlifter awarded Llew Rees Memorial Prize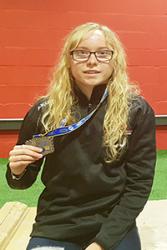 Catrin with a silver medal for Wales from the Commonwealth Weightlifting Championships in Australia last year.Bangor University has awarded its annual highest sporting award, the Llew Rees Memorial Prize, to a Team Wales, Commonwealth Games weightlifter.
Catrin Jones, 18, from Bangor has been awarded the prize as she has made the greatest contribution to raising the profile of Bangor University sport by her personal achievement at international level.
A first year Psychology student, Catrin has recently returned from the Commonwealth Games at Gold Coast, Australia as part of Team Wales.
A Bangor University Sports Scholarship recipient, Catrin has had a phenomenal few years amassing a wealth of medals and titles. In 2015 she won gold at the Commonwealth Youth Games in Samoa and in 2016 she travelled to Poland to compete in the European Youth Championships where she won silver in the 'Snatch' and third overall.
Weightlifting has also taken her to Malaysia for the World Youth Championships where she finished a very respectable eighth place and to Australia in September 2017, where Catrin competed in the Commonwealth Weightlifting Championships in which she was placed second in the Junior Competition.
Catrin is impressing at senior level too, as she moved up a weight class and won the Welsh Senior Championships in 2017 and came third in the British Championships, narrowly missing out on second place by 1kg. Catrin was also named the 'Carwyn James Young Welsh Sportswoman of the Year' at the 2017 Wales Sport Awards.
2018 has got off to a good start with Catrin winning the Welsh Senior Championships, then selected to compete for Wales in the Commonwealth Games in the Gold Coast in April, where Catrin surpassed what was expected of her, by breaking three Welsh records, the 'Snatch', the 'Clean & Jerk', and the total lifted, which Catrin broke by a massive 10kg.
Delighted at receiving the prize, Catrin said: "It has been a long-term goal to being selected for the Commonwealth Games. It is a once in a lifetime opportunity to represent Wales and Bangor University. I'm very greatful to the University for supporting me throughout the last few years, and the Llew Rees Prize will continue to help me with the cost of competing internationally."
Catrin, the curent Welsh Champion and multi British and Welsh record holder, continues to train 5-days a week with the aim of a Team GB spot at the 2020 Tokyo Olympics.
Related stories:
University Congratulates Commonwealth Athletes
Strong Bangor University contingent at 2018 Commonwealth Games
Bangor Psychology Student wins BBC Wales Young Sportswoman of the Year 2017 Award
Silver medal for Welsh student
Bangor athlete awarded Young British Weightlifter of the Year
Bangor shines on the world weightlifting stage
Bangor University pumps it up at the Welsh Weightlifting Championships
2014 Sports Scholarships
Worth her weight in silver and bronze! Catrin brings in medal haul at European Weightlifting Championships
Top eight finish at World Youth Weightlifting Championships for Catrin
Publication date: 8 May 2018