Student Profile: Niall Williams – BSc Sports Science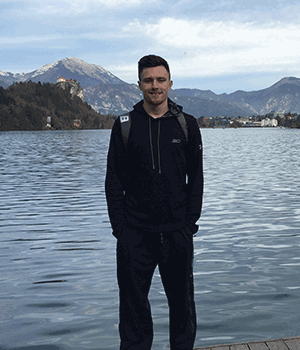 Niall Williams
Niall Williams is from North Wales and attended St Gerard's School in Bangor and completed his Alevels at Charnwood College Basketball Academy.
Why Bangor?
Bangor's SSHES department has a really good reputation and the university has great provision for sport which allowed me to work and improve as a student-athlete.
I chose to study a BSc in Sports Science because I have always been curious as to how athletes improve and perfect their craft. Also, as a basketball player, I believed that being educated would help improve my own performance and help me achieve my goals of playing at a high level.
Bangor really is in the perfect location. As well as basketball, I like to go surfing, kayaking and mountain biking. It's very rare to have facilities for any sport right on your doorstep. So for me, I like Bangor because of the endless opportunities available, allowing you to make your uni experience what you want it to be.
Has studying at Bangor improved your job prospects?
Definitely, not only have I improved academically, but the opportunities available to get involved in coaching, as well as work a part time job alongside my studies has definitely helped.
Since leaving Bangor…
Since my degree finished, I have taken the time to reflect on it and really look at what I would like to do moving forwards. For me, the skill acquisition and motor control modules were really interesting as it explained what I already knew and has transformed the way I look at skill development. Therefore I am looking to continue my studies by doing a Masters in Sport and Exercise Sciences (MRes/PgCert) as this course will allow me to go out and conduct my own research on exactly what I would like to investigate, which is what I enjoyed most about my third year.
How did your experiences at Bangor change your life?
After attending a basketball academy when I was in sixth form, I was worried that it was the end of the road in terms of developing as a player. However, the last two years I have continued to improve as a player, playing for a local team, Bangor University and now representing Wales in 4 fixtures over the last year.
Describe Bangor in three words
Home, scenic, fun
Why did you choose to study some of your course through medium of Welsh?
My Welsh (which is my second language), has always been okay but I decided to study in Welsh to broaden my vocabulary and practice my Welsh speaking.
What was the best bit about doing that?
There is no pressure to speak good Welsh in the classes as it is an opportunity to improve your Welsh speaking ability.
What would you say to Welsh speaking students considering doing part of their course through medium of Welsh?
Definitely go for it.
Has studying through the medium of Welsh helped your job prospects?
Definitely, I definitely feel more equipped to work in the sport industry in Wales.