£1M worth of equipment available to businesses for the first time in Wales.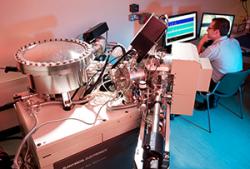 Dr Jeff Kettle with the Time of Flight Secondary Ion Mass SpectrometerBangor University's CLARET project has recently taken delivery of a Time of Flight Secondary Ion Mass Spectrometer system or ToF-SIMS. This advanced system is the first of its kind in Wales and one of only a handful available for commercial use across the UK. The highly technical equipment and experts who operate it are based at the University's School of Electronic Engineering.
The ToF-SIMS system is ideally suited for design and manufacturing companies who are interested in understanding how products are performing at a molecular level. The equipment allows for very accurate surface analysis of materials and depth profiling – or burrowing into the material - to accurately analyse what a material is made of or detect possible contamination. Identifying contaminants and especially their concentration at various depths can be invaluable when determining sources of device unreliability and reasons for reduced lifespan in the field.
One of the first users of the new system was the St Asaph-based automotive switch manufacturer TRB Ltd. Steve Whittaker, General Manager of Manufacturing, said: "TRB Ltd has a long standing commitment to continuous improvement and product development, so when we became aware of the ToF-SIMS system and its analysis capabilities we submitted various samples for evaluation. Specifically we wanted to identify if there were any variances between batches and suppliers that might affect the reliability and longevity of a product. CLARET worked with us at every stage to understand our requirements and I'm pleased to say the results showed there weren't any significant variations in composition between samples. This gave us real confidence that our existing quality programme was working well."
Another company using the system is south Wales-based semi-conductor wafer manufacturer IQE Plc. Dr Ewan Davis, IQE Plc's Group Technology Director also wanted to evaluate the sub-surface composition of wafers to determine, if any, the presence of impurities. As with TRB, CLARET worked with IQE Plc to understand the range of likely impurities and this shaped the type of analysis that was undertaken. Dr Davis said: "We were extremely pleased with the results, which showed that no contaminants were present in the sampled wafers that were likely to affect reliability or lifetime performance".
CLARET is funded through the Academia 4 Business (A4B) programme, a six year programme of support funded by the Welsh Assembly Government and European Structural Funds. The project is already working on several other projects with Industry partners on a variety of projects. If you would like to know more about the ToF-SIMS and how it or CLARET may support your business deliver the performance that the market expects, please contact CLARET's Technical Development Manager, Glyn Fargher, on g.fargher@bangor.ac.uk
Publication date: 3 September 2014