£2M investment in Electronic Engineering Undergraduate Teaching Laboratory
New Laboratory Equipped with Agilent Instruments Supports Undergraduate teaching in Wales.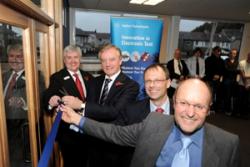 Graham Newton from Agilent, Bangor University Vice-Chancellor, Professor John G. Hughes, Paul Spencer, Head of the School of Electronic Engineering and Mr Donald Poirot.Agilent Technologies Inc. and Bangor University recently opened a new Agilent Branded laboratory equipped with Agilent instruments. The lab, located in the School of Electronic Engineering at Bangor University, will support teaching of undergraduate and postgraduate degree courses in Electronic Engineering.
The School of Electronic Engineering is Ranked 2nd in the UK, as determined by the 2008 Research Assessment Exercise (RAE), and had the highest percentage of 4 star publication of any Electronic Engineering School
The University's Vice-Chancellor, Professor John Hughes, and Graham Newton from Agilent formally opened the laboratory. The event featured a presentation from the Vice Chancellor, Graham Newton and Professor Paul Spencer, Head of the School of Electronic Engineering and also guest speaker Rear Admiral Paul Thomas delivered a keynote presentation which was followed by a celebratory dinner.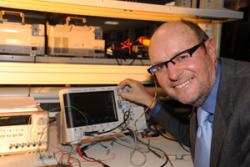 Donald Poirot gets to grips with one of the Oscilloscopes in the new Lab named after him at Bangor University's School of Electronic Engineering "We are extremely happy to have worked with Agilent to re-equip our new teaching lab with the latest industry-standard equipment," said Prof. Paul Spencer, Head of Electronic Engineering at Bangor, "This equipment is in use and our students are benefitting from the new environment already. We are very grateful to Agilent for its continued support."
"Agilent has a lasting commitment to supporting academic institutions in nurturing the next generation of engineers by equipping their laboratories with state-of-the-art test instruments," stated Ueli Nussbaumer, Agilent's European Geographic Business Manager. "Bangor University has a world-class reputation in Optoelectronics and Organic Electronics, and it is a pleasure to be able to assist them in this way."
The new laboratory has been named The Poirot Laboratory after the recently–retired Laboratory Technician Donald Poirot, from Llandegfan, who worked at the school for over 30 years. The school canvassed the opinion of current and past students and staff and the suggestion of the "Poirot Laboratory" received unanimous support. This highlights the high esteem in which Donald is still held and is a fitting tribute for his years of tireless service. The Lab can now accommodate up to 48 students at a time. Agilent equipment in the lab includes 27 Oscilloscopes 25 DC Power Supplies 25 Digital Multimeters and 2 generously donated Precision source / measure units.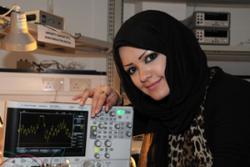 Amshah Aljeaidan, 3rd year Electronic Engineering Student from Kuwait in the new Donald Poirot Electronic Engineering Laboratory."This investment comes at a welcome time as it enables us to build on the school's success in the RAE and to continue to use our research expertise to provide an outstanding student experience, and to inspire our students to achieve their full potential," said Professor Paul Spencer. We are introducing a range of new four-year MEng programmes for undergraduates, and extending the range of MSc courses that we offer."
"In today's fast-moving technology environment it has never been more important to ensure that our young engineers have the very best teaching and facilities to equip them for shaping the future of the wireless communications industry – and by inference that of the entire global economy, which depends on having a fast, reliable communications infrastructure," added Prof. Spencer. "Bangor University has a long-standing reputation for producing some of the industry's best engineers, and this new laboratory will help to consolidate its position among the world's finest research establishments in optoelectronics and Organic Electronics."
Publication date: 8 November 2012