Bangor Computing and Electronic Students win Hac Iechyd Cymru 2020 / Welsh Health Hack
Four undergraduate students from the School of Computer Science and Electronic Engineering, along with Dr. Franck Vidal (Senior Lecturer) entered and won the Hac Iechyd Cymru 2020 Welsh Health Hack competition.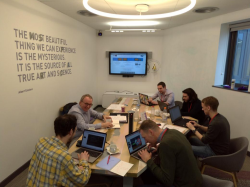 This is the fourth year of Hac Iechyd Cymru 2020 Welsh Health Hack, which brought together healthcare professionals with digital and technology enthusiasts as well as data companies. At the event many clinical problems and challenges from across the health and care system in Wales were discussed. The event started with a time for networking and discussion. Subsequently the team partnered with Chris Subbe who is an Acute Physician at Betsi Cadwaladr University Health Board in Bangor and Bryan Griffiths a specialist in innovation and digital technology in healthcare.
For two days over the hack, the team worked on their own novel solution. Marios Christodoulou, Adam Haskell, Rory Macpherson, Jake Pryce-Jones (3rd year students in Computer Science), along with Franck Vidal, Chris Subbe and Bryan Griffiths designed a robotic pet for isolated people at risk with sensors and data science to warn "buddies" of concern. They presented their NEWS Bunny idea at the final pitch, to a jury consisting of representatives from Welsh Government, Health boards and Investors. They were successful in their pitch and walked away with £7,500 in prize money to bring the solution to life.
Publication date: 27 January 2020