Bangor student creates entertainment portal for train passengers
A Bangor University student recently won an award for Best Developer at Europe's first ever hackathon held on a train.
Jamie Woodruff, a BSc Computer Information Systems student took part in the HackTrain event along with his team Captivate.
Hackathons are endurance events which challenge small teams to intensively build products they could never have conceived before. Teams of programmers, designers and entrepreneurs come together in a weekend to build products from scratch to innovate on a specific theme, or industry.
The teams were presented challenges faced by leading rail businesses. Over the 48 hour weekend, they designed and built mobile app, software and hardware startup businesses in order to fundamentally change the travel experience for the better.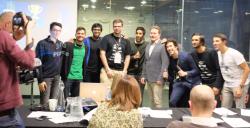 Jamie and his Captivate team decided to create a portal for disconnected WiFi users on trains. Commuters will be able to access content such as games and films, from their personal devices.
Captivate won third place in the competition, and according to HackTrain, were selected due to the progress made during the weekend and that they had secured a trial with a train partner to test the portal on a journey.
Ed Maclean, the organiser's Media Lead said,
"Jamie won the prize for Best Developer at HackTrain. We were blown away by what he built with Captivate. Captivate is a portal for storing content: TV shows, games, movies, on a train for all passengers to view on any device without an internet connection. Jamie, with Jeevan, built Train Cloud, without which it would have been impossible. Train Cloud allows for devices to seamlessly download HD quality content in a localised WiFi network - a world class use of technology and back-end development that has rarely been seen before.
Ten teams took part in HackTrain, and Jamie's team of Captivate came 3rd. In fact, the team have recently explored commercialising their technology and have just sealed a deal to host 72,000 TV shows, games and films on their platform. Big things could possibly be coming!"
Related stories:
Ethical Internet hacker scoops £1,000 bounty
Jamie Woodruff - BSc Computer Information Systems
Publication date: 22 April 2015