Bangor University student bags "life changing" grant to develop his ed-tech idea
A Bangor University student has been announced as a winner of a national competition to come up with ideas for new digital tools and apps for learning.
Joe Perkins, 22, from Bournemouth, Dorset will receive funding and support as part of the Part of Jisc's Summer of Student Innovation, the Student Ideas competition called for technology ideas that could improve the student experience in further or higher education and skills, and attracted dozens of entrants whose pitches accumulated 7613 votes in total on the Elevator website.
Joe's idea was Course Match, a mobile application that wants to utilise machine learning and a familiar Tinder user interface, to help students with the increasingly difficult choice of what degree course to pursue.
As one of 15 winning ideas, Joe has now been given £2,000 funding and will receive support from Jisc experts to work on his concept during a series of workshops over the summer.
Paul Bailey, senior co-design manager, Jisc said: "The Summer of Student Innovation competition is now in its 4th year, but the fantastic ideas just keep on coming, proving that students are a great source of invaluable on-the-ground knowledge and innovation when it comes to ed-tech. As usual, we received many exciting and innovative ideas and choosing the winners was a difficult task. We chose these entrants because their ideas were innovative and exciting, whilst addressing new opportunities in educational technology. They also offer potential ideas we can develop into products, and have real potential to offer a genuine impact in learning, teaching or research".
"Joe should feel very proud to have been named as a winner. I look forward to seeing how his concept develops over the coming months."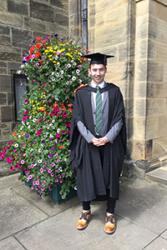 Joe Perkins Joe graduates this week with a 2.1 BSc degree in Computer Science.
Joe said: "I am delighted to have won the stage one funding from Jisc, and believe it will make a huge difference in getting Course Match off the ground and up and running!
"My time at Bangor has been a phenomenal success, and has truly helped to shape the person I am now. The support of the University and lifelong friends I have made will be with me forever, and for that I am eternally grateful!
"The School of Computer Science have been truly excellent throughout my studies, offering help where needed, as well as a world class curriculum taught by an eclectic range of inspirational lecturers and staff members.
"In particular I'd like to thank both the Athletic Union and the Men's hockey club that have really helped me flourish over my time in Bangor, leading to me captaining the men's 1XI side this year, and leading them to a national final for the first time in Bangor's history.
"Post-graduation I will be committing 100% of my time to building Course Match into a thriving business, with the hope of one day helping prospective students nationwide to find a degree course that is suited to them, in order for them to both complete and enjoy their studies, and enter the world as a young professional."
Publication date: 14 July 2016