Collaboration on Materials for Flexible Display Electronics Awarded 'Outstanding' by the Technology Strategy Board
Collaboration's success central to validating technology with global flexible display manufacturers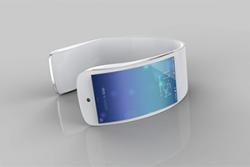 A SmatrKem concept image based on the development.SmartKem Ltd., a leading developer of high performance, organic semiconductor materials for flexible displays & electronics, and Bangor University are delighted to announce that a recent Knowledge Transfer Partnership (KTP) has been awarded a grade of 'Outstanding' by the Technology Strategy Board.
Working with the School of Electronic Engineering, academics from the Organic Electronics Group characterised and validated SmartKem's advanced semiconductor materials in transistor form as part of its material development programme. The University is a leader in the research of plastic electronics, and Dr Colin Watson, the KTP Associate from the Organic Electronics Group, worked with SmartKem to develop rapid test methodologies for validation of the semiconductor materials intrinsic electronic characteristics and process protocols for incorporation into transistor test arrays.
This support in validating SmartKem's technology has been an important factor in the company's rapid development cycle, contributing to SmartKem quickly attaining a strong position in the Asian display supply chain. It has also been a central component in validating SmartKem's advanced materials capability to the market and so allowing commercial partnerships with global manufacturers to be forged, including a joint development agreement with a major Asian display manufacturer for the future commercialisation of advanced flexible displays.
The KTP programme is a UK-wide effort to enable businesses to expand their capability competitiveness and productivity through knowledge transfer of technology and skills that reside within the UK Knowledge Base. The collaboration provided SmartKem with access to Bangor University's expertise in the field of transistors physics and test capability to enable a more complete understanding of the electronic performance of its organic semiconductors during the development cycle. This has enabled SmartKem to rapidly position itself in the display sector with the only high performance semiconductor that offers OEMs true flexibility in final transistor form. This achievement was recently recognised by industry as SmartKem won the Printed Electronics Asia Award for "Best Material Advancement over the last 24 months.
Steve Kelly, CEO of SmartKem stated: "Few places in the UK could have provided the level of expert technical support and high calibre equipment that we have had access to at Bangor University. The world class expertise and breadth of experience of Professor Taylor's Organic Electronics Research Group has been of immense value to the company in understanding the performance of our materials."
Dr Colin Watson of the School of Electronic Engineering worked intimately with the company to process, test and validate its products in TFT form and to define protocols for incorporating their materials into transistor devices - a vital part in the technology transfer process. The outcomes of this partnership have enabled the company to develop an extremely rapid development cycle and validate their materials as a platform technology to the world's leading electronics manufacturing companies.
Dr. Watson, the KTP Associate from the Organic Electronics Group, comments: "We are delighted to have been recognised for our expertise in the field of transistors and to have had the opportunity to collaborate with SmartKem in progressing the capabilities of their p-FLEX™ organic semiconductors. We look forward to continuing our work in this field and seeing how results of this collaboration impact the flexible display industry."
Dr Mike Cowin, SmartKem's Head of Product Development said, "Colin's contribution to the company's development cycle has been significant. Colin's relentless efforts and leading expertise in TFT theory and application have been a real value-add to the company. We owe Colin, Professor Taylor, Bangor University and the KTP programme a debt of gratitude for their contribution to our progress in device validation and product support."
Publication date: 10 March 2014