Determined student overcomes cancer to graduate
Inspirational Creative Technologies graduate Ronald Rodriguez Winter (Ronnie) has battled cancer to graduate from Bangor University with a First Class degree. To add to his achievements he has also been awarded the Jane Rudall Prize in recognition of his determination and effort in pursuing his studies.
Originally from Esquel in Patagonia, Argentina; Ronnie, who's father is Spanish and mother is British, has triple Argentinian, Spanish and British nationality. Growing up, he also had close links to the Welsh community of Trevelin, where Welsh settlers set-up a colony in 1865. He had many Welsh friends and attended the Welsh chapel.
Ronnie's family moved to the UK in 2002 and he studied his GCSEs and A Levels at a school in Oxford before working and travelling in Australia for five months. He decided to apply to Bangor University in 2011.
Ronnie explained, "I had relatives who had been living in Bangor for about 10 years, and had been to visit them many times when I lived with my family in Oxford. They had gone back to Patagonia, but one cousin remained here and was about to start his PhD in Electronic Engineering, so I thought it would be a great idea to at least have someone I knew in the town where I was moving.
"Having grown up around spectacular landscapes with mountains and glaciers, I think Snowdonia has always reminded me of my childhood and provided me a way to escape work and relieve stress. I have fallen in love with the place, and have always enjoyed hiking in the area with friends and my fiancée."
During the second year of his course Ronnie was diagnosed with Hodgkin lymphoma, but despite this, he was determined to carry on with his studies.
Ronnie said, "In 2014 I was diagnosed with Hodgkin lymphoma (Cancer in the Lymph nodes). It was stage 2b, which is curable, and statistically speaking 99% of diagnosed patients in my age group are cured after treatment.
"I was initially referred to have many scans, and was told it was Hodgkin lymphoma in April 2014. I spoke to my tutors at university about it and they told me I could freeze the course and continue at a later date. But, I decided to carry on with my studies.
"By the beginning of May I was told I could start treatment. Exams were taking place in May, so this was the worst time to undergo this. I told the doctors to let me finish my exams first as I was determined to finish the year before starting chemotherapy.
"The university then gave me the option of sitting the exams at a later date, but I went ahead and took the exams in May. Luckily I was able to pass all my exams, and my marks were all in the high 70s and 80s."
At the end of May, Ronnie began his chemotherapy treatment, which he describes as the worst time of his life.
"I spent my summer poisoned with chemicals in my bloodstream, throwing up and feeling weak, unable to concentrate or read properly. I tried my all to remain positive and determined to endure it."
Ronnie finished his course of chemotherapy in mid-September just before the beginning of his third year at university. He then underwent two weeks of radiotherapy at Ysbyty Glan Clwyd hospital, 40 miles from Bangor.
Ronnie explained, "My parents drove me from Bangor to Glan Clwyd every day after lectures. I asked the hospital staff to move all my appointments to 5pm and 6pm where possible, so I wouldn't miss any lectures.
"I had really strong side effects for about 2 more months (including chemo brain) until they eventually started wearing off and by Christmas I was almost back to normal.
"At the beginning of last December I went to Manchester to have my PET scan done, and a week later I was told I was completely in remission. I have been going to the hospital for checkups every 2 or 3 months now and so far everything is perfectly fine."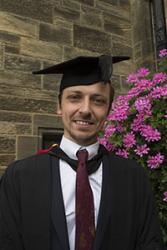 Ronnie WinterRonnie added, "It feels great to be graduating with a First Class degree and it certainly was a surprise to win the Jane Rudall prize. Even though I didn't know Dr. Jane Rudall, people have mentioned her to me as a lovely character full of talent. As a fellow ex cancer patient and knowing what it is to go through such a thing I am proud to have been given an award in her name.
"I want to thank all the lecturers at the School of Computer Science that have taught me so much over these last three years, especially my tutor Professor Ludmila Kuncheva, who has been an amazing support during my diagnosis and treatment. She has been like family to me.
"I want to also thank my dissertation supervisor Dr. Stephen Marriott who has been an excellent support and highly encouraging. He always pushed me to get the best out of me, and for that I am ever so grateful to him.
"I would also like to thank all those who helped me during my treatment; my parents, my fiancée, and the people from Penrallt Baptist Church who have always been there when I needed someone. And also to all of the staff at Alaw Ward in Ysbyty Gwynedd, including Dr. Seale, Dr. Chris, and all the nurses that work so hard for the good of the community."
Ronnie is now looking to start working within the IT industry and in September he will be returning to Patagonia for a very special holiday.
"I will be getting married in September and going for a honeymoon visiting the Chilean and Argentinian Patagonia. After that, we will settle down in Wales where I intend to find a job as a software developer."
Publication date: 17 July 2015