Dream computer science degree for Kieran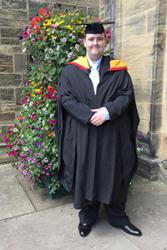 Kieran BoldA Computer Science student, who has enjoyed every moment of his time at Bangor University, graduates this week.
Kieran Bold, 21, from Rhos-on-Sea, has always had a passion for Computer Science, blogging about various games since the age of 15. He was involved at his school's lunchtime computing club where he would help others learn to code. He has also helped the elderly by volunteering to teach them how to use a computer and get on-line.
Kieran, a former student at Ysgol Eirias, Colwyn Bay, said: "It feels absolutely amazing to be graduating. Three years have gone quickly and I've enjoyed every moment. Bangor University, from the staff to the Students Union, to my peers; everything has made this experience amazing."
About Bangor, he added: "When I came to the Open Day, it wasn't like any others I had visited. All the staff made you feel welcome and the range of fields that you studied was like no other. The University and the Computer Science department had everything that I wanted. It was also fantastic to see that accommodation was guaranteed for me, the clubs and societies were free to join and there were so many places you could go visit and the scenery was outstanding.
"In the first year, I had the chance to get involved with a project that followed from the Professional Perspectives module. We created a project and presented it to "The Dragons" and they evaluated our idea. This lead to one of the companies wanting to expand on the idea, of which nine students and myself had the chance to gain industrial experience during the entire summer of our first year."
Kieran hopes to study an MSc by Research followed by a PhD in the future.
Publication date: 14 July 2016