Electronic Engineering degree for Ralph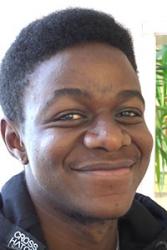 Ralph Maclumbe from Zimbabwe graduated with a BEng Electronic Engineering, First Class degree from Bangor University this week.
Thrilled with his degree, Ralph said: "My A levels didn't go as well as I had hoped but after speaking to the School of Electronic Engineering at Bangor University it was agreed that I would be accepted on to the course. I applied to the School of Electronic Engineering because of its research ranking, 2nd in the UK and also the small class sizes, which were very important to me.
"Being away from home and family I liked the idea that I would be known at the University, and my family knew I would be well looked after. I had only visited the UK once before for a holiday with family, so when I arrived in September ready to start my course, it was quite overwhelming, a strange city and away from everything I knew.
"The first semester was hard work, I wasn't sure if I could carry on, but I decided to get on with it and I am so glad I stuck it out as I made so many friends after making an effort with my fellow students. By the second year I couldn't wait to come back!
"The main thing that touched me about Bangor is that in my third year I broke my ankle and was in a brace and cast for the whole of the first semester. The Head of School, Dr Iestyn Pierce, and Dean of College, Professor Paul Spencer and other members of academic staff were there for me and really helped me through. I cannot express how grateful I was to have received such support and help; I don't think I would have received such individual attention anywhere else. At Bangor you are not just another student, you are a person. To have been able to go to the Head of the School to ask for help is something that I will be eternally grateful for.
"My plans for the future include a Masters degree, focussing on the software aspects of engineering to enable me to become a better engineer. I then plan to work and gain experience before returning to Southern Africa and help my country develop in future years."
Publication date: 11 July 2014