Fabricating over 2000 masks, here's how we did it
A team of researchers at Bangor 3D Printed 2000 face shields, which have been distributed to local frontline workers.
Through a collaboration between the University, members of the community, North Wales Tech and Betsi Cadwaladr University Health Board, and coordinated by teams at M-SParc and Awyr Las (the North Wales NHS charity), the group at the Bangor Uni's School of Computer Science & Electronic Engineering have been involved with a huge endeavour to fulfil the need of health, care, and essential workers for adequate PPE.
Joseph Mearman, a member of the School who is currently studying for his PhD whilst also working on the Technocamps project said:"We've created more than 2000 masks now, but it has been a challenge to ramp up production and keep all of the printers running, the 3D printers have been running near constantly for weeks".Working with Dr Simon Burnell from Betsi Cadwaladr University Health Board and Wyn Griffith (a local designer and former member of the Arloesi Pontio Innovation team), the team has been working to produce, validate, optimise, refine and seek approval for the visor designs. Using rapid iteration and rapid prototyping by 3D printers, the team have developed two approved designs. First, an optimised design from Prusa Research based on the Prusa RC3 face shield (which has become a globally used design), and second, a hybrid design created by Wyn that is based on the Verkstan design but uses the face shield hole spacing for the Prusa to ensure compatibility. This design is also modified to be compliant with the EN166 standard to ensure comfort when worn for prolonged periods.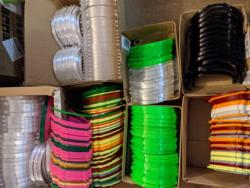 Components of the face masks ready for final assembly.
The printers were gathered from various sources. Many were originally purchased for use with students on the Technocamps project. Joseph says "It is amazing to see the Velleman printers that came from Bangor's Technocamps hub being used for this purpose. These printers come in kit form and have all been built either by members of the Technocamps team or by school children who have engaged with Technocamps Workshops. I have these printers set up in my dining room, along with my own printers. It means I can keep the 3D fabrication line running for many hours of the day." Initially, printing filament came from the stock held from previous projects. The stock of filament was quickly depleted and due to the demand of the visors, and unfortunately, the price of the filament has been rising. However, thanks to amazing support from the local community and local organisations such as the North Wales Masonic Province, Joe has been able to fundraise enough to have a continuous supply of filament and other raw materials, buy parts and tools to keep the printers running, and even buy a few more printers to speed up production.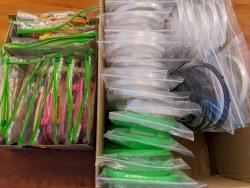 Final packaged face mask, ready for distribution.
After many long days and nights of tinkering and tuning, Joe was able to optimise the settings and get each printer producing a visor in just over an hour and can now produce over 100 visors per day. All of the printers are being continuously repaired and upgraded to keep them running and improve the reliability of the prints. Finally, the transparent face-piece of the face shield, as well as been cut in laser cut in large batches, are also being produced on a home-grade CNC cutter (the Brother Scan-and-Cut), and were packaged to be distributed locally.
Publication date: 12 June 2020