First-class degree for Ji
Ji Wu from China graduated with a first-class BEng Electronic Engineering degree this week.
Extremely happy to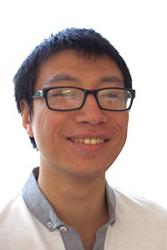 be graduating, Ji said: I came to Bangor on the Beijing Institute of Technology 2+2 programme. This meant that after a year of study in my home town in China I then came to Bangor to complete my degree. I struggled at the beginning with the language mainly and so my tutor Dr Iestyn Pierce suggested I retake the first year so I could really get to grips with the technical aspects of the course. I am so glad I took his advice as I learned so much, and now I have a first class degree and am going on to study for an MSc in London next year.
"Bangor has been a great experience for me, I was fully immersed into another culture and language which was scary at first but then I realised the benefits and made friends from all over the world. This really helped my English language, I am now confident and happy as a result. The good thing about Bangor is that it is a fairly quiet city with fewer distractions than at home which meant that I found it easy to concentrate on my studies.
"I enjoyed my life in Bangor, the difference between here and home is the pressure. At Bangor there is pressure to study and do well but not like at home, where there are hundreds of applications for each job, and the pressure to outperform your peers is immense. Here I felt that I could join clubs and societies and enjoy life as well as my studies, I have loved all aspects of my time here in Bangor, and really had a lot of fun. I am so grateful to all the staff at the school of Electronic Engineering who have helped me throughout the course and have always been there to offer help whenever I needed it."
Publication date: 11 July 2014