Graduation Profile: Ehren Pawley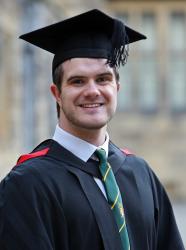 Ehren PawleyEhren Pawley, 23, comes from Lee-On-Solent, Portsmouth, Hampshire and has graduated with an MSc Electronic Engineering degree. Before commencing his studies at Bangor, Ehren attended Bay House School & Sixth Form in Gossport.
Background:
I studied Maths, Physics and electronics at A-Level. I enjoy keeping active and Rugby.
Why choose Bangor?
I decided to study at Bangor so that I could experience living in a brand new environment, different surroundings and culture, as well as the University's reputation for its Electronic Engineering course.
Student Experience:
I was a part of the 'Enterprise by Design' challenge and put forward a pitch to help design the first £100,000 caravan. I also was allowed free reign on both my undergraduate and postgraduate dissertations to build a 'Brain-Computer Interface' (BCI).
I dabbled in experiencing the Chinese Society, American Football Society and Gaming Society, but really committed to being a key member of the Men's Rugby Union society and IEEE student branch (secretary).
I really enjoyed the whole experience, from beginning to end. The friends I made, the mentors I met and the times I had were truly remarkable. The emotional roller coaster of my time there is something I hope never to forget and, will certainly learn from.
Aside from having to grow your own independence and self-discipline, I felt that the course itself had extremely challenging times that were both equally difficult and rewarding.
How does it feel to be graduating?
Like a long journey finally ending! I'm elated to have done, and been a part of it. I'm extremely grateful to be graduating and cannot thank enough the people who have helped me get to where I am today.
The future:
I hope to pursue a successful career in a field relevant to my study and/or one I enjoy, whilst perhaps one day revisiting the University as an Alumnus to help future students with any questions they might have about the course.
Publication date: 13 December 2018