Harnessing our Welsh sunshine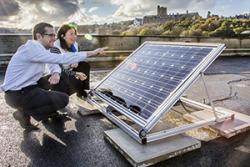 Dr Jeff Kettle and Stevie Scanlan inspecting solar panels on the roof of the School of Electronic Engineering.In Wales, we receive on average, 1,390 sunshine hours each year, which could potentially be converted to electricity. If we could capture and convert a small fraction of that, we would need no other source of generation to meet all our energy needs.
The technology to capture this energy is photovoltaics, which harnesses the sun's rays and converts the energy into electricity which can then be used locally or fed into the national grid.
Internationally, the Photovoltaic (PV) market is in rapid global growth; a trend that is reflected within the UK and Wales. The adoption of current photovoltaic technologies has been driven largely as development of new materials and devices to improve performance and drive down costs, as well as government incentives such as the Feed-in-Tariff.
PV experts at Bangor University's School of Electronic Engineering have been capitalising on the significant market growth by working to develop next generation PV devices, which are potentially cheaper, can be integrated into buildings easier and are potentially more suited to a climate such as Wales. The materials used are organic in nature, are not toxic and can be printed onto flexible bases.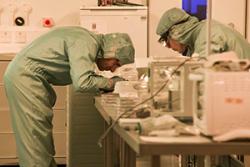 Dr Jeff Kettle and colleague in the 'clean room' facility, where pv materials are fabricated and tested, at the School of Electronic Engineering. Dr Jeff Kettle, lecturer and researcher at the School of Electronic Engineering, explained: "The types of solar cells we're working with could provide a step-change to solar electricity generation across the region. Whilst many of these next generation PV devices are still at a prototyping stage, the future potential is huge as they are lightweight."
"Supporting the PV industry in Wales through strengthening the academic base and through knowledge transfer centres is an important part of ensuring that Wales gains substantially from this growth," he added.
This commitment is put to work through a €1.8 collaborative industry-informed initiative to develop and sustain employment in the economically important solar energy industry in Wales and Ireland. The 'Wales Ireland Network for Innovative Photovoltaic Technologies' (WIN-IPT) an initiative between Bangor University, Waterford Institute of Technology and Swansea University, is part-funded by the European Regional Development Fund (ERDF) through the Ireland Wales Programme 2007-13. The Network provides related industries in the region access to the very latest information and training on the latest developments in this fast- moving and emerging technology to further promote innovation within the solar energy sector.
A workshop covering 'New developments in PV technology' will be hosted in Bangor on the 6th September to highlight current trends in the PV industry, including academic experts from both Wales and Ireland. The event is aimed at researchers, industry and companies and institutions who have a general interest in renewable energy.
Registration can be accessed here
According to Dr Jeff Kettle: "the partners involved in the Network have a proven track record of delivering commercially relevant research, which is underpinned by fundamental research and development. The sort of challenges that we are addressing cannot be completed by a single individual, so an inter-disciplinary team of chemists, device engineers, manufacturing specialists and industrial end-users is the solution.
Despite the economic downturn, solar electricity generation across Europe continues to increase. The cost of solar power is continuously decreasing year-on-year, as the cost of oil and gas continues to rise."
It is estimated that the "installed capacity" for Wales in August 2013 is around 150-200 MegaWatts (MW), which is approximately 2/5s the current output from the Wyfla nuclear station. The UK Government has publicly announced that the government would like to revise the target upwards to 22 GigaWatts (22000 MW) across the UK by 2020. It has been estimated that for each MW of electricity installed, this leads to approximately 50 new jobs being created in the industry from production through to installation
The School of Electronic Engineering at Bangor University is rated as one of the leading engineering schools in Wales and was ranked 2nd in the UK in the last research assessment.
Publication date: 2 September 2013