Helping local organisations to fill the gaps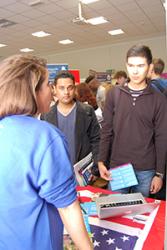 A number of employers and organisations took part in the annual Jobs Fair recently. Exhibitors spoke to students about part time jobs, graduate schemes and voluntary opportunities. A new online job vacancy portal is enabling employers and voluntary organisations across north Wales and beyond, to fill vacancies and opportunities within their organisations. Bangor Prospects is promoting their vacancies to thousands of students and graduates who are currently looking for part-time or casual work; graduate level opportunities; paid placements, internships & voluntary opportunities.
Many local employers have already taken advantage of the free online service at Bangor University's Careers & Employability Service, and staff are eager to get more local employers on-board.
The Outreach Centre at Bethesda have recently used the facility. Office Manager, Gemma Watts explains: "We provide residential specialist rescue and industrial safety courses and provide a three-course evening meal during the week. We needed kitchen and waiting on staff. We advertised locally, but didn't receive a good response- the working hours between 5 and 7.30 are possibly difficult for people with another day jobs or who have families, but we've had a great response from students by advertising on the Bangor Prospects website, and we're currently interviewing to fill the post."
Samina Hussain, Bar and Brasserie Manager at the Bull's Head Inn, Beaumaris has also used Bangor Prospects along with other employment sites. She said: "We wanted to advertise part time and casual vacancies, so I used the site and found it really pain-free, easy to use and user friendly. It generated a lot of applications from students, who are ideally suited to the hours that we offer, and we're going through the selection process at the moment."
The University itself offers a range of student opportunities via the service. Emma Chappell of the Management Centre has used the new system and says:
"Our jobs are open to all, but being part of the University and at the heart of the campus, we like to provide opportunities for students. Past students have been of high calibre and asset to our team."
The team emphasise the wide scope of the service. Recent graduates living in the region are also able register and apply for any of the opportunities advertised. As well as promoting employment opportunities, the team can also offer advice on recruitment needs and arrange employer presentations or recruitment days throughout the academic year.
Lis Owen, Employability Assistant at Bangor Prospects, commented: "Students can be flexible regarding availability for work. Some are looking for casual employment, while others will be looking for opportunities more directly related to their prospective careers. Working, work experience or volunteering can all can provide vital employability skills and experience for our students, while paid work provides a valued and welcomed income stream"
Local employers or organisations wanting further information on any of the services offered can contact the Careers and Employability team a who will be happy to help by calling 01248-382071 or e mailing careers@bangor.ac.uk
Publication date: 6 October 2015