Hobby and career change leads to First Class Honours!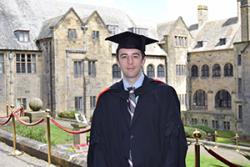 Spencer RoseCreative Technologies graduate Spencer Rose from Denver, Colorado, United States, enrolled in university with the goal of becoming an airline pilot 9 years ago. He soon discovered that his day-in, day-out passion was working on video games - which had been a hobby for many years. This week he will be graduating with a First Class Honours degree.
Spencer, 25, credits Bangor University with helping his ambitions. He said. "I chose to study at Bangor because it was the first university in the UK to offer a Creative Technologies degree scheme, which seemed like it would offer a diverse range of taught skills and knowledge. The idea of studying in Bangor was also appealing to me as it offered a reasonably affordable way to experience living in another country while pursuing a qualification."
He added, "The freedom and responsibility associated with my final year project was a highlight of my academic studies at Bangor. I especially enjoyed being able to specify and develop a project on my own terms, since I was able to develop specific skills which can be directly applied to the industry in which I'd like to work."
"I'm excited to focus on working with games on a full-time basis. I'm eager to take the skills I've acquired in writing code and working with software and apply this to projects which I'm truly passionate about. My time at Bangor has prepared me to involve myself even further in game development, and my hopes are to continue working on games for many years to come."
Spencer is excited to be graduating with first-class marks, and being able to apply the skills and knowledge he's acquired at Bangor to future projects.
Publication date: 14 July 2016