Hummit, the new app released by a Bangor University student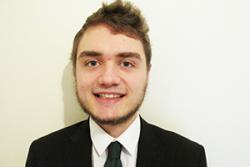 Enterprising Joey Elliott has built an app in his spare time.We've all had that tune in our heads that we can't name. Well, Joey Elliott, aged 22 from Oswestry, has developed a mobile app to resolve that problem! His app lets users find the names for those annoying tunes in their head such as the title of a catchy song heard on the radio and then later, you cannot remember. Joey created the idea after he found himself having this recurring problem and is hoping to help others in similar situations.
Joey, who is now in his final year, came to Bangor University to study a Masters in Electronic Engineering. He has now taught himself the skills and techniques required to develop mobile apps in his spare time. Joey would like to encourage anyone else with a passion for making mobile apps to go forth with it.
He says: "Hummit only took six months to build from scratch before it was ready to be released. Developing this project has also provided an abundance of valuable skills for my CV, such as experience with AWS (Amazon Web Services) and Xamarin (a software platform owned by Microsoft)."
Hummit, which was released in April last year, works by recording a short audio sample, the recorded sample can then be heard by all other users of the app, who can then respond with answers. Afterwards the correct answer can be chosen, and points are rewarded, which determine your highscore ranking. Hummit is available for download by everyone on Android, iOS and Windows. You can download the app here.
Joey's dissertation supervisor, Dr Maziar Nezhad at the School of Electronic Engineering commented:
"The defining feature of this app is that it identifies music through a crowd-sourcing approach. This can enable a wider range of recognition abilities compared to similar AI-based apps (such as Shazam and SoundHound), assuming that a sufficiently large user base is generated."
Twitter: twitter.hummit.co.uk
Publication date: 23 February 2018