Local School pupils get hands on at CodiSTEM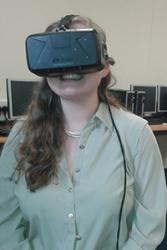 Delwen De Jong, Bangor University RSC Co-Ordinator, trying the Oculus RiftHundreds of school pupils from schools in Môn and Gwynedd flocked to Grŵp Llandrillo's Coleg Menai recently to attend the inaugural CodiSTEM Science, Technology, Engineering and Maths (STEM) careers and information event organised by Careers Wales.
CodiSTEM, the first event of its kind to be held in the area, attracted over 450 young people from Ysgol Syr Thomas Jones, Ysgol Bodedern, Holyhead High School, Ysgol Llangefni, Ysgol David Hughes and Ysgol Dyffryn Nantlle during the day.
There was also an evening event which featured speakers including Greg Evans formerly of Centrica, Dr John Idris Jones, Energy Island, Chris Blake, CITB, and Daron Hodges and Mark Salisbury of Horizon Nuclear Power.
As well as the young people, high profile local employers also attended including Siemens, Babcock, IBM, Dawnus and Wynne Construction. These employers were on hand to advise pupils on how they might secure a future in their industries, providing advice on the type of job opportunities available.
The event took place in the Energy Centre, where there were a number of have-a-go sessions were provided by Coleg Menai. These involved renewable power, automotive engineering, the Energy Centre's Flowloop Simulator, virtual welding and CAD/CAM Design.
Many of the employers also provided have-a-go sessions. These included Jones Brothers of Ruthin who brought along a Virtual Reality Construction Site – enabling the young people to take charge of heavy plant from the safety of the event. The National Grid brought along robots that the young people had a go at controlling, Bangor University's School of Electronic Engineering introduced the visitors to the technology behind the Nintendo Wii and Occulus Rift gaming technology while the School of Ocean Sciences brought along tanks of small marine animals for visitors to look at. Horizon Nuclear Power challenged the pupils to build a Nuclear Power Station in a race against the clock.
Dr Iestyn Pierce, Head of the School of Electronic Engineering, Bangor University, said: "We were delighted with the turnout, the young people were fully engaged with the event and I'm sure that they got a lot out of it.
"We've also pleased to see so many influential employers taking part today. It's critical that Bangor Univeristy and Coleg Menai, along with our colleagues in Careers Wales, communicate the importance of STEM Subjects and let the young people know that there are good jobs locally with great employers if they decide to go down they STEM route – either by studying A Levels or by taking a vocational route through the college or doing an apprenticeship with an employer".
Dr John Idris Jones, Energy Island Programme Director spoke at the evening event, he commented, "'What an inspirational experience to see several hundred of our young people engaging so enthusiastically at CodiSTEM – STEM subjects are set to become more and more important for our young people given that Energy Island is revolutionising the Island by attracting significant investment in the nuclear and renewables sector.
"This is already happening, and momentum is set to increase significantly year on year. There will be work opportunities in a number of sectors for our young people at all academic levels - from trainees to apprentices, from graduates to those already in the workplace. It will give our young people the chance to stay here to work, and for those who have left us to return home.
"Energy Island's low carbon energy developments are set to create jobs in diverse sectors: from catering to engineering; from construction to taxi services; from medical staff to hospitality services; and many more besides. The clock is already ticking for our young people, and it is crucial that they are positioned to seize the transformational opportunities which Energy Island presents. The CodiSTEM event provided exactly this information and we hope that those who attended will now start thinking hard about the skills and training they will need to maximise this once-in-a-generation opportunity."
Publication date: 7 May 2015