Mature Student gains a First Class Honours Degree and Award
Wendy Ann Evans, 43, from Bangor is graduating this week with a first class honours degree in Information Communications Technology.
Wendy said: "Graduating feels exciting and slightly surreal now that it's all over!"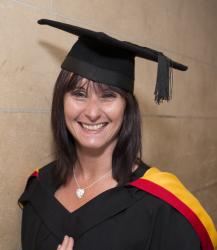 Wendy Evans"Being a mature student I was very apprehensive that I wouldn't fit into an environment predominantly full of young people, let alone be able to compete with their computer knowledge. But I had no need to be worried as I made some great friends along the way and I'm glad that I had them to share this experience with."I'm also grateful to all the staff in the department for giving me the opportunity and championing me at every step, especially my personal tutor Prof Lucy Kuncheva and my dissertation supervisor Dr Stephen Marriott. This experience has proved to me that I'm capable of doing anything and has made me more confident with my new computer skills … it's onward and upward from here.
"I was born in Edinburgh but from an early age moved around a lot as my father was in the military. It was through the military I met my husband and we have two grown up sons. Being a military wife and moving around all the time, I never really had the opportunity to find a career for myself. We moved to Bangor in 2000 and as our boys were going into secondary education we decided to settle here.
"Getting work was difficult as I didn't have any formal qualifications so I decided to go to college. My college tutor must have thought I had potential as I was offered the opportunity to stay on and do a Higher Diploma in Administrative Procedures along with my ECDL and some other computer skills.
"After returning to work for another eight years I felt I needed a career boost. I emailed the School of Computer Science and was invited for an interview. I never expected to get in as I didn't have any A-levels, so I was shocked and excited when I was offered a place.
"Having the University right on the doorstep meant that I could still live at home while studying. It made all the difference to have my husband and sons for support.
"My main highlight was graduating with a First class honours degree which confirmed that I made the right decision in going to University. I was then told I had been awarded the Dr Jane Rudall Award by the School of Computer Science, for attaining significant achievement by pursuing my studies with determination and effort. So it just goes to show that whatever life throws at you, with a positive attitude you can still do well.
About the future, Wendy said: "After taking some time out to spend time with my husband I am in the process of looking for work and now that I have my degree I'm confident that it will open doors to opportunities that I wouldn't have had otherwise."
Publication date: 12 July 2013