MEng Team Project Students give back to local community
Seven students graduating this year on the MEng Electronic Engineering and MEng Computer Systems Engineering have designed and built an electric train for the Llanberis Railway (Rheilffordd Llyn Padarn) as part of their degree studies. All MEng students take a substantial team project in their final year in partnership with an external company. This year's partner company was Rheilffordd Llyn Padarn.
From left to right in the picture: Dr Iestyn Pierce (project supervisor), Dr Osborn Jones (Rheilffordd Llyn Padarn, external supervisor), Hazem Al-sheikh, Amaid Anjum, Marek Rebalski, Mac Jones, Jack Brady, Ieuan Gough, Lewis Hunt.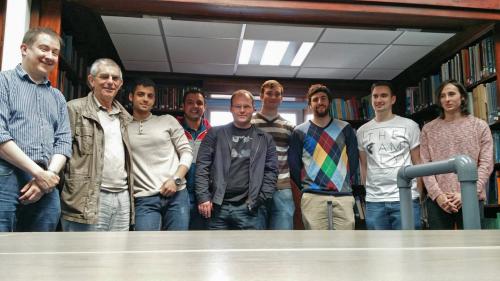 This year's project was seen—and ridden—by hundreds of visitors at the first "Gŵyl Ynni Plant" a festival of energy generation, storage and utilization on 19th and 20th of June.
The team's contribution means that many visitors will find out how electronic engineering graduates can use their skills to make clean, safe transportation systems and to learn about electric motors, sensors and control systems. The students all learnt a lot about designing and controlling electric machines but are most proud of the fact that their hard work will be enjoyed by many school pupils in the hope that some of those will be inspired to follow in their footsteps


Publication date: 16 July 2014