Philippe graduates with a First after an action packed three years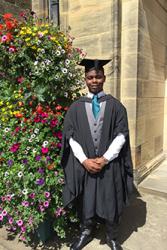 Philippe Bantsi MongapndamA student from Cameroon is celebrating graduating with a First Class degree in Electronic Engineering after what he describes as 'years of hard work, sleepless night and perseverance'.
Philippe Bantsi Mongapndam, 20, not only worked hard in his degree, but also had two part-time jobs and was heavily involved with a number of Students' Union initiatives, clubs and societies.
Philippe said, "Due to visa issues and because I transferred from another course, I actually started my degree about one and a half months after term began so had to catch up with all module's course work, which was challenging. However, thanks to the friendly and helpful lecturers I had additional catch-up classes and extended deadlines.
"During my degree I was fortunate to work on many projects and programmes where met some wonderful people, did things I couldn't have dreamt of and developed skills which contributed to my personal development."
"Academically the main highlight was working on my final year dissertation with my supervisor. It is one of the biggest piece of work I ever delivered. The start was difficult as I needed to carry out a research and investigations, but thanks to my supervisor's friendly approach and openness our partnership developed over time and I was able to achieve a good result."
He added, "Working while studying was a necessity for me so as to reduce the burden on my parents' shoulders, so I had to be efficient and find the right balance between working and studying so as not to affect my degree."
Over the past three years, Philippe has managed to balance his studies, two jobs and a variety of extra-curricular activities. He was a member of the Afro-Caribbean society, Makerspace society, Stage Crew society and the Gaelic football club; as well as taking on a host of other challenges and roles.
"Whilst at Bangor I have done so many things I honestly had never imagined doing. I volunteered with a project where I coached children in sport, I took part in the competitions such as the Culture Challenge and Enterprise by Design and I was the Campus Sport officer for the Athletic Union executive committee.
"I was also a football activator working in developing football across campus, and having attended a course run by the Football Association of Wales I'm now an FAW Football Leader."
Next year is likely to be just as action packed for Philippe as he will be staying in Bangor to study a Master's degree in Electronic Engineering. He also plans to take on the role of Campus Life Co-ordinator which involves helping to run a programme of activities for the thousands of students living in the University's halls of residence.
Publication date: 14 July 2016