Prizewinning student lands Graduate Research Engineer job at Jaguar Land Rover
Inspired by the real world problems engineers face on a daily basis, a prizewinning student graduated from Bangor University this week.
Peter Doggart, 22, from Belfast graduated with a first class MEng Computer Systems Engineering degree from the School of Electronic Engineering. Peter also scooped the Dr John Robert Jones Prize of £1500, which is awarded annually to two of the best students across all disciplines at the University as well as the Dr R H C Newton Prize, awarded by the School to the student with the best performance in an engineering-related mathematical subject. Peter was also a recipient of a Bangor Excellence Scholarship of £4,000 which is awarded to applicants who have achieved outstanding A-Level results.
The former Sullivan Upper School, Holywood pupil said: "I am very happy to have finished my degree, the four solid years of hard work have paid off, and it's nice to see the light at the end of the tunnel. At the same time, it is a little bit of a sad moment, Bangor has been a place of great happiness for me. I've met amazing people, been fortunate to go to university in such a beautiful area and I've really enjoyed my time learning there so it will be missed greatly.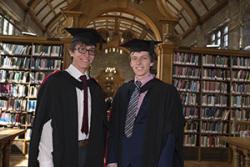 Ryan (left) and Peter Doggart"Having spent a lot of time in north Wales on family holidays, Bangor seemed like the natural first place to check out. I attended an open day and was immediately sold, I knew that Bangor was the place for me. The staff and the facilities made me feel right at home, I just knew I would be happy there. Interestingly, my twin brother and I filled in our UCAS applications separately, without telling each other our choices beforehand. It seems that great minds think alike, as Ryan also graduates this week from Bangor with a first class MEnvSci Environmental Science degree.
"Never one to sit about, I had various periods of work throughout my degree. I spent my university holidays in first year and over the summer working at McDonald's in Belfast. Up until early 2015, I played a large role in the Spotify Community, a support community run alongside Spotify, the music streaming service. This was great fun, although hard work at times, it involved meeting people from all over the world and being privileged to make regular trips to its Stockholm head office.
"Since the end of my second year, I've been a sponsored student at Jaguar Land Rover, which means that they have provided me with paid work placements for each summer, a return to university bursary payment at the end of each summer, and now a full-time permanent graduate level role in a department of my choice. I will be starting as a Graduate Research Engineer at Jaguar Land Rover in September. This fantastic opportunity has helped me to realise that to be successful in this field, I needed to learn skills beyond those taught in the classroom. Work experience, especially with Jaguar Land Rover, and jobs have played a huge part in teaching me the interpersonal and communication skills needed in the real world.
"My third year dissertation project was also very interesting. In a new piece of research, my supervisor Dr Jeff Kettle and myself built a new model to simulate the power production of Organic Photovoltaic Cells (Organic solar cells) based on many of their physical characteristics. This project included incredible large datasets, and because of this gave me the opportunity to work with HPC Wales (High Performance Computing) to borrow some time on their super computer to crunch the numbers. This research is published in the Journal of Applied Physics, and was the only third year project in my year to be published publically to my knowledge.
"During my four years at Bangor, I've done many things that I definitely didn't dream of doing before I started. I took part in the Enterprise by Design program which brings together students from different schools to design a product for a real company, in our case local climbing giant DMM. This was an incredibly useful experience, I learned many different ways of thinking about problems and how people interact with objects from the students from other schools such as Psychology, Design and Business.
"I'm now looking forward to moving to Coventry in August before starting my new role as a Graduate Research Engineer at Jaguar Land Rover in September. I plan on continuing to work towards becoming a chartered engineer (CEng) which is my next big goal over the next few years."
Peter's Personal Tutor, Dr Jeff Kettle, said: "Peter has received the prizes awarded by the University due to the hard work he has put in over every year of his 4-year degree. He has never missed coursework or dissertation deadlines and has made sure he has taken on-board the feedback received from lecturers and peers. He has always enthusiastically taken opportunities outside of his core academic studies to broaden his skillset and personal skills. We wish him the very best of luck at Jaguar Land Rover and for the future."
Related stories:
Peter's dream internship at Jaguar Land Rover
Student Profile – Peter Doggart
Publication date: 17 July 2015