Researchers present at the virtual Eurographics and EuroVis conference
Researchers at the School of Computer Science and Electronic Engineering from Visualisation Data Modelling and Graphics group presented their research online as the Eurographics and EuroVis conferences went virtual. The international computer graphics conference (Eurographics), along with the international conference on visualisation (EuroVis) were jointly hosted by Linköping University, Sweden, organized by the department of Media and Information Technology at the university of Linköping, and took place between the 25th and 29th May 2020.

Eurographics and Eurovis 2020, conference 25th and 29th May 2020The conference was open to anyone and was live streamed on YouTube with Discord used for social events and discussion. Professor Jonathan Roberts said "It was a great experience to be part of this virtual conference. It was a different experience in comparison to when we hosted Eurographics at Bangor in 2011. For the virtual conference we had to record our talks and submit them before the conference. These recordings were first streamed, and then we had a live question and answer session." Researchers presented three academic papers.
The first presentation was titled Critical Thinking Sheet (CTS) for Design Thinking in Programming Courses, by Jonathan Roberts and Panagiotis Ritsos in the Eurographics Education Papers session. In this paper we present a method to help learners critically analyse what they will code, before they write any code. Professor Roberts says "We have used this methodology widely, and want others to use it, indeed we are using it in the continuity of learning activities, in Project Rainbow."
The second presentation was titled "Visualising collocation for close writing". The work presents ongoing research to develop an interactive text editor with integrated collocation recommendations and visualisations. Presented by Jonathan Roberts, it is part of the AHRC funded research project Collocaid led by Surrey University and has several collaborators: Peter Butcher (Bangor University) along with Robert Lew (Adam Mickiewicz University), Nirwan Sharma (Open University), Geraint Rees (Surrey University) and Ana Frankenberg-Garicia (Surrey University).

The ColloCaid demonstrator, showing editor (left) with one visualisation (right)
Finally, Hayder Al-Maneea, a PhD student, presented "A tool to help lay out multiple view visualisations guided by view analysis" along with Jonathan Roberts. The work presents results from Hayder's PhD study on investigating multiple view layout strategies. Hayder Al-Maneea said "To be part of the poster session, on Discord was great. It was good to have deep discussions about my PhD work, and also I was honoured to be one of three papers who were shortlisted as best posters for the joint Eurographics/EuroVis conference 2020."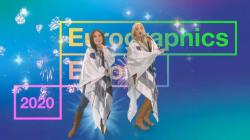 Abba tribute band singing at the Eurographics/Eurovis 2020 virtual conference.Dr Panagiotis Ritsos wrote "We would have loved to travel to Sweden, but this virtual conference was great. There was a real conference vibe. The keynotes were special, two in particular stick in my mind: David Luebke, Vice President of Graphics Research at NVIDIA, spoke on how AI was revolutionising computer graphics in image synthesis, and Ola Rosling, President & Co-Founder of Gapminder Foundation spoke on Factfulness, encouraging us to think about sustainable development and be less ideological and more fact-based. Also, the conference dinner was exchanged with an Abba tribute band, which got us all singing."
Publication date: 16 June 2020