Santander reward students' bright ideas
Bangor University held the finals for the first stage of the Santander Entrepreneurship Awards recently.

On the day, five undergraduate and five postgraduate students presented their ideas to a panel of judges, which included the University's Vice-Chancellor Professor John G. Hughes, with the hope of making it through to represent Bangor at the national Santander finals in July.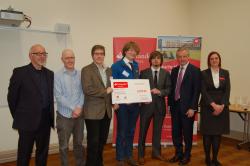 The winners and runners-up with the judgesThe B-Enterprising team were delighted to receive 37 entries to this fourth year of hosting the competition. The winners will not only go on to the UK finals but will also be offered one-to-one mentoring as well as a cheque for £200. Runners up were awarded a cheque for £50.
Postgraduate winners were Computer Science students Williams Faithfull and Francis Williams. Psychology student Louise Ainsworth was judged runner-up.
Winners in the undergraduate category were Product Design student Josh Williams, who took first place and Liam Fletcher, from the same school, who was runner-up.
William Faithful, originally from Basingstoke, said: "A friend told us about the competition; it is a very good funding opportunity as the winner of the UK round will be awarded £20,000."
Francis added: "It feels fantastic to win; we weren't expecting it at all."
Undergraduate winner Josh, from Chester, said: "It feels great to win and I am looking forward to developing my product further and helping people. I'm looking forward to the final.
"This competition really shows you what goes into a business pitch and it has been very good practice for when I graduate."
Undergraduate runner-up Liam added: "It feels brilliant to know that the judges think your product can go to market. The whole competition has been a great experience. It is an opportunity to practice the delivery of a business pitch and how to explain the concept of your product clearly."
Diane Roberts, Santander University Relationship Branch Manager, who was on the judging panel, said: "I thoroughly enjoyed myself especially the ten pitches from the students, they had all worked very hard and there wasn't one pitch that wasn't a good idea.

"That is down to the hard work of Bangor University's B-Enterprising Team. I feel very grateful to have been part of the fantastic event to recognise the talented students here at Bangor and I'm very proud to be a part of Santander Universities and the work that we do to support higher education."

The other judges were Dr Andy Goodman, Director of the Pontio Innovation Hub and Chris Walker, the Enterprise Support Programme mentor who provides support to Bangor University students and graduates to develop their ideas.

Lowri Owen, from the Bangor University B-Enterprising Team, said: "The Santander Entrepreneurial Awards is a valuable opportunity for student and graduate entrepreneurs from Bangor University to showcase themselves and their ideas and enables B-Enterprising to highlight the support available to them.

"Commercial awareness and enterprise skills are sought after by employers so participating students will be able to demonstrate these traits to future clients and employers. All of the entrants and finalists will receive Bangor Employability Award xp for participating."


Publication date: 31 March 2014