Satisfied students place Bangor University among top UK universities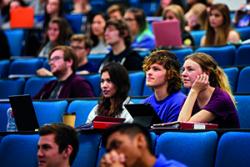 Bangor University's students have again given the University a resounding testimonial in the annual National Student Satisfaction survey, placing the University eighth among the UK's non-specialist universities in the UK and second among Welsh Universities.
The news follows hard on the heels of the University's recent success in being awarded a Gold Standard in the UK Government's new Teaching Excellence Framework, the only Welsh university to achieve this standard.
The National Student Survey, a poll of around half a million graduating students at each university in the UK, provides the most comprehensive feedback on the student experience at each institution.
Professor Oliver Turnbull, Pro Vice-Chancellor for Teaching & Learning at Bangor University commented on the results saying:
"These are a wonderful endorsement of our activities, and indeed of Bangor University's values. We have long been renowned for providing not only excellent teaching but also student support, and these results yet again reflect this. The data should also be really valuable for prospective students, who will make decisions about University places over the next few weeks."

Thirteen degree courses achieved 100% satisfaction rates from the students, and nine general subject areas have also achieved 100% satisfaction, placing them at the top of their subject table in the UK. Bangor University's average satisfaction rate of 90% is above the UK and Wales averages of 84%.
Senior staff at the university put the success down to the high standard of teaching and the student experience at Bangor University, along with the University's focus on identifying and addressing any problems that may arise for individual students.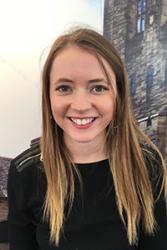 Elain Haf Elis who has just graduated with a degree in Welsh.Prof Turnbull added:
"Our commitment to our students, and to the quality of their experience at Bangor, is of course a team effort by our entire community, from the academics who deliver lectures, to the technical staff who run laboratories, the PhD students who assist with tutorials, our administrators, and all the service departments who support the smooth operation of University life. I would like to thank all our staff, and would also like to thank our recent graduates for giving our University such positive feedback. We hope that they keep in touch with the Bangor University graduate community."
Elain Haf Elis from Abergele, who has recently graduated with a degree in Welsh said:
"Over a period of three years I've had some memorable experiences to treasure for a lifetime! The course was really interesting and relevant to the current work environment. The University has also offered me some valuable experiences such as the opportunity to work with the marketing department on open days and at the Eisteddfod and also with the University's Talent & Opportunities Programme. I have enjoyed myself so much at Bangor, and as the standard of teaching is excellent, I'm returning in September to follow a postgraduate Secondary School PGCE teaching course."
Another happy student is Steffan Nicholas from Camarthen, currently studying at the School of Education. He said:
"Bangor is an excellent place to study, nestled between the sea and the mountains of north Wales. It is a warm and friendly place and an excellent environment for making new friends and socialising with people from all over the world as well as from closer to home. I was fortunate enough to receive scholarships to study here and this support has been invaluable as I present my work. Bangor is also a great place for students to volunteer, be part of a sports team and to join the various societies. I'm proud to be a part of the Welsh community here and really enjoy living and socialising at Neuadd John Morris-Jones."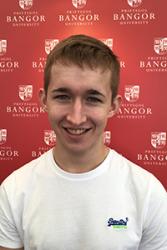 Steffan Nicholas from Camarthen is currently studying at the School of Education.The 13 programmes areas that have achieved 100% overall satisfaction are: Computer Information Systems, Criminology & Criminal Justice/Psychology, Cymraeg, English Literature, Environmental Science, Marine Biology/Zoology, Music, Philosophy and Religion, Psychology with Clinical & Health Psych, Sport Science (ODA), Sports Science, Zoology, Zoology with Herpetology
The nine subject areas to achieve 100% are: Archaeology, Celtic studies, Design studies, French studies, Iberian studies, Journalism, Linguistics, Music and Philosophy.
In a further 13 subject areas Bangor University appears among the top 20 in the UK. These are: Agriculture; German Studies; Imaginative Writing; Law; Marketing; Media Studies; Medical Technology (Radiography); Physical Geography and Environmental Science; Psychology; Social Work; Sociology; Sports Science; Zoology.
The NSS results provide the most comprehensive feedback on the student experience at each institution, drilling down to school, course and programme level and also drawing on broader information about areas such as teaching and assessment and feedback.
Publication date: 9 August 2017