School announces free learning activities around rainbows and colours
The School of Computer Science and Electronic Engineering announces a new programme of activities around rainbows and colour, to encourage school children to keen learning. See csee.bangor.ac.uk.
The activities cover a range of topics, all around the idea of colours, rainbows, and light. They help learners develop their skills in computer programming, design, and understand more about optics and even lasers. A variety of activities are given, from creating a colour spinner, using a laser pointer to writing code in the Processing graphics library, CSS and JavaScript. Activities are categorised at three levels: beginner, intermediate or advanced.
Jonathan C. Roberts, professor in visualisation, writes "In this time of disruption, our education system is also being disrupted at all levels. As academics, we want people to keep safe, but we also want them to continue learning. Many pupils and students have found themselves with extra time on their hands, we can help them continue their learning journeys. We have created Project Rainbow, a programme of activities around colours and light. Learners will be able to follow the activities and learn to code, design graphics and learn more about light." Jonathan continues by saying "The idea of focusing on rainbows and colours comes from the many rainbows that have appeared up and down the UK in many household windows, in support of the National Health Service. Rainbows are hopeful and provide an excellent topic that we can weave many learning activities."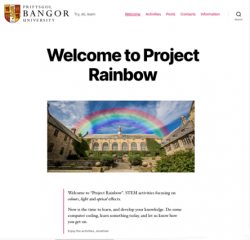 Project Rainbow website, to find the activities.
Dr Iestyn Pierce (the Head of School) said: "The academic expertise at our school covers a wide range of topics, from information visualisation, data analysis, computer design, virtual reality, lasers, and optical systems for sensors and data communications. We have a lot of experience and knowledge in these topics and want to share it with learners across the education system."

A picture from one of the activities, to create animated rainbows using only HTML and CSS.Dr Dave Perkins, the director of Teaching and Learning at the School, says "we encourage learners to have a go, and try these activities. Moreover, we want to hear from you. When you have tried these lessons send us pictures of your solutions and let us know how you are getting on with the materials. Now is the time to learn something new".
Publication date: 22 June 2020