School children create art inspired by Anglesey's standing stones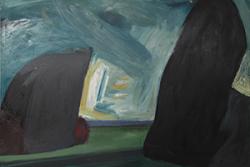 Artwork inspired by Bryngwyn, BrynsiencynAn exhibition of Artwork inspired by Anglesey's Standing Stones will be visiting Galeri in Caernarfon between 15 August and 5 September.
The inspiration for the exhibition and project which created the works, came from a local Antiquarian's scrapbook. In his scrap-book, dated 1938, local antiquarian, Harold Senogles had recorded archaeological information and taken pictures of the most popular stones on Anglesey, as well as discussing the reasons for the construction of these fantastic monuments. The scrapbook, donated to Gwynedd Archaeological Trust 15 years earlier came into the lime light once more, whilst volunteers were scanning about a quarter of a million images for the Bangor University funded Visualising the Archaeology of Gwynedd Project.
Pupils from six Anglesey schools visited four standing stone sites, including Ty Mawr in Holyhead, Llanfechell, Y Cremlyn in Llanddona and Bryngwyn in Brynsiencyn. During these visits the young people enjoyed getting involved in a variety of activities linking with the curriculum, to recreate the information within this unique book. On site, the young people also created some beautiful artwork by drawing the stones in a variety of techniques. Volunteers with a passion for archaeology, art and photography enjoyed taking part in the project and helping with the school visits.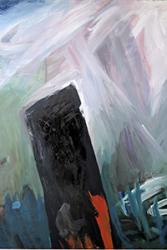 Y Cremlyn inspired painting.: Both images copyright Julie Williams.Following the school visits to the stones, the young people have created more artwork with Julie Williams, a local Welsh artist, who has been teaching art for over 15 years. This work has created an exciting exhibition bringing art and archaeology together to interpret these fascinating pieces of Welsh heritage. Complementing the artwork are 3-D models of the standing stones which were printed as part of the AHRC funded Bangor University Heritage Together project. The exhibition began at Holyhead Library on the 25th May 2013 is travelling around north Wales venues for the next few years.
Publication date: 5 August 2014