School of Computer Science and Electronic Engineering awarded Athena SWAN Bronze award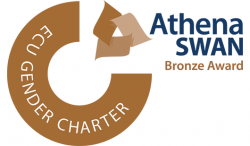 Bangor University is delighted to announce that a recent Athena SWAN application for a Bronze award from the School of Computer Science and Electronic Engineering has been successful. These awards recognise the Schools' and University's ongoing commitment to gender equality for staff and students.
Dr Iestyn Pierce, Head of School of Computer Science and Electronic Engineering, said: "We are delighted to have been awarded Athena SWAN Bronze in recognition of our commitment to gender equality. The School has outreach activities at its core, with Technocamps Bangor an integral part of the School. We have been working hard for many years to attract more girls and women to our subject areas and are delighted that our hard work has been recognized. The School will continue to place equality at the forefront of its activities to broaden opportunities and contribute towards increasing diversity amongst staff and students".
Professor Iwan Davies, Vice-Chancellor, said "I would like to congratulate the School of Computer Science and Electronic Engineering on their successful application. I am delighted that another School has been awarded an Athena SWAN awards in recognition of our work towards gender equality at Bangor. We are fully committed to continuing our work in this area and to embedding equality into everything we do."
The Athena SWAN charter was established in 2005 to encourage and recognise commitment to advancing the careers of women in science, technology, engineering, maths and medicine (STEMM) in higher education. The charter was expanded in 2015 to include all academic departments and professional services staff. Athena SWAN now recognises work undertaken to address gender equality more broadly and the awards recognise commitment to gender equality and diversity, excellent working practices, and the inclusive culture we promote for staff and students at all levels.
Publication date: 15 October 2020