School of Computer Science participates in the International conference on Visualisation
Professor Jonathan C. Roberts and PhD student Mr Hayder Al-maneea participated at the premier visualisation conference in Vancouver between the 14th to 26th October 2019.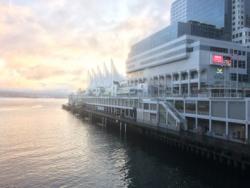 The IEEE VIS conference is the premier forum for advances in visualization that is Sponsored by the IEEE Computer Society Visualisation and Graphics Technical Committee. It was attended by over 1100 participants from around the world, and this year took place in Vancouver, Canada. The conference rooms were packed with delegates. The conference allowed participants to share research achievements, novel insights and enthuse about the visualisation topic. The programme featured many research presentations along with a wide range of symposia and co-located events, including Visualization in Practice, Visualization in Data Science, and an evening VIS Arts Program, as well as different data analysis and visualisation challenge competitions and an exhibition.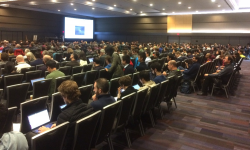 Conference attendees at IEEE VIS 2019
We presented research from the ColloCaid.org project that is funded by the AHRC. This work was presented at the 4th Workshop on Visualization for the Digital Humanities. The published paper and presentation focused on how we co-created an online learning environment to support academic writing. This research collaboration is between researchers from Applied Linguistics and Lexicography, Human-computer Interaction and Visualisation, across Bangor, Surrey and Poznan Universities. The research is developing a learning tool to provide users of academic English language an online environment to provide real-time suggestions to improve the vocabulary and fluency of their texts. Hayder Al-maneea presented his research on "quantifying multiple view layouts in visualisation as seen from research publications" and we presented the poster on tangible visualisations using paper craft.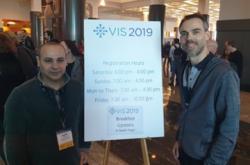 Mr Hayder Al-maneea and Professor Jonathan C. Roberts at the IEEE VIS 2019 conference.
"It is a privilege to represent Bangor University at this premier event" said Professor Roberts. "Indeed, it was great to see our book on our Five Design-Sheet methodology on the Springer stand, and meet many other visualisation researchers, and talk about data visualisation methods and techniques".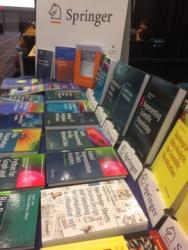 Springer books on display at the IEEE VIS 2019 conference in the exhibition area.
Publication date: 7 November 2019