Snowdonia walking 'app' launched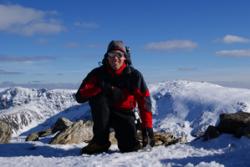 Andy HarbachA Bangor graduate has recently developed his first mobile 'app' - Walking in Snowdonia. Andy Harbach, 34, from Bangor, graduated in 2000 with a Computer Systems Engineering masters degree, and has been running his own IT business, Snowdonia IT Services, for 7 years.
Andy's business develops web based applications and e-commerce systems. This is a direct result of his university education, as he needed a computer science degree to begin his career as a programmer at Bangor based, Secure Trading – one of the first independent internet payment service providers in the UK.
Andy, a keen mountaineer, said: "I've had my own website about walking in Snowdonia for over 15 years. With changes in technology, and the popularity of iPhones it seemed to be a natural extension to write a companion iPhone app that people could carry around with them. The app was my first one after a course on iPhone software development run by Software Alliance Wales (SAW) at Bangor University.
"The app is aimed at anyone who would like to go walking in the mountains of Snowdonia, but do not know the routes particularly well. Of course people should not rely on the app for navigation purposes, and they must have appropriate map and compass skills before venturing out in to the mountains."
Andy will continue to add new routes to the app and the website as he visits new areas. Extra features, such as logging completed routes and adding comments to a route, may also be developed. Andy is also a member of Ogwen Valley Mountain Rescue Organisation.
To download the 'Walking in Snowdonia' app, visit the App Store on your iPhone .
Publication date: 15 October 2012