Software Alliance Wales hosts Computer Science EXPO at Bangor University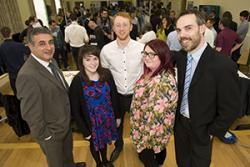 L-R Dr Sa'ad Mansoor, Head of the School; Coran Jones, Computer Information Systems for Business; Gareth Henshall, Computer Information Systems; Alison Miller, Computer Information Systems & Dr Jonathon Roberts, LecturerSoftware Alliance Wales and Bangor University hosted a Computer Science EXPO recently. The event saw up to 50 of Bangor's brightest computer science undergraduates present their final year projects to local SMEs who may be looking to recruit IT graduates for their businesses.
Software Alliance Wales' Student Development Projects match business needs with the skills of the University's final year students. Whether it's an app, a website, or an IT system, students work closely with their chosen business to create workable IT solutions to real-life business problems.
The event saw the University's most talented computer science students showcase their projects in front of an audience of potential local employers who may be looking for the key IT skills that computer science graduates have to offer.
Liam Kumos, Software Alliance Wales academic liaison officer at Bangor University, explains:
"The Expo provides students with an ideal platform to showcase the business knowledge and experience they've acquired from working directly with a business over the past year and encourages them to kick start their careers in IT when they graduate this summer."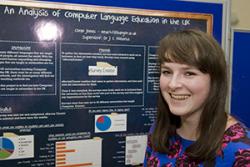 Student Coran Jones displays her workDr. Saad Mansoor of Software Alliance Wales, and Head of School of Computer Science at Bangor University, added:
"At Software Alliance Wales we know how wide the IT skills gap is across the UK and we're doing all we can to launch our computer science graduates into careers right here in Wales."
"Our work doesn't end when our students graduate. The Expo is just the start of our involvement. We also offer training for IT professionals throughout their careers; enabling them to retain the skills demanded by employers as the market evolves."
During the event Stephen Johnson of Puppet Labs talked about the future of technology and Andy Goodman from Pontio Bangor talked about the new arts and innovation centre which is set to open later this year.
Publication date: 3 April 2014