Stroke sufferer graduates with pride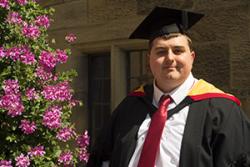 A prize-winning gifted computer programmer graduated from Bangor University this week.
A former pupil of the Queen Elizabeth's School for Boys in Barnet, Cameron Gray, 30, from Friern Barnet, London graduated with a first class BSc Computer Science degree. Cameron also won the British Computing Society Prize for the best graduating student at the School of Computer Science.
Cameron has been involved in IT since a very early age. In fact, computers taught him to read and write at age two. He wrote his first computer game in the BBC BASIC programming language at the tender age of five. Due to his interest and aptitude, there was never much doubt what career path he would go down.
Cameron said: "I decided to pursue a university degree to satisfy many HR departments who can't see past an experienced candidate with 'no degree'. Now with the combination of a Bangor University degree and my experience, I expect there will no longer be any issues with CV screening!
"As a mature student, there were never any issues with combining work and study. Professional life drills a work ethic and time management into everyone.
"During my studies I co-authored a textbook with Profesor Ludmilla Kuncheva at the School of Computer Science. It's a practical guide to problem solving using MATLAB - a high-level computing programme. The book is designed to complement a taught course and beginners alike and I hope that it will assist future students for years to come.
"The highlight of my time at Bangor was assisting with teaching, both formally and informally. It's very rewarding to see the light bulb moment of understanding and inspiration spark into life.
"During the first semester of my second year, I unfortunately suffered a stroke. I have fully recovered, and thanks to the support from the Disability Service, the School of Computer Science and my personal tutor, Dr Marriott, I have been successful enough to be awarded a First and the BCS Prize.
"The stroke shifted my focus somewhat and my life priorities. I'm therefore continuing my studies within the department with a PhD, the goal being teaching and inspiring future generations of students into IT and computer science careers."
Publication date: 10 July 2014