Understanding our Oceans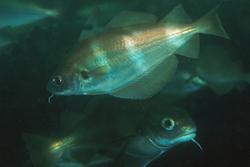 Bib or PoutingBangor University's Schools of Ocean Sciences, Electronic Engineering and Computer Science in collaboration with company partner Tidal Lagoon Power are looking for a computer science student to help them build an autonomous vehicle that will answer questions that have bugged ecologists and fisheries scientists for years – how and where do fish swim? The new project being developed by SEACAMS, Bangor University and funded by KESS 2 aims to track small marine fish to understand where fish swim in a way that has previously only been applied to large sharks.
The project was born out of the Tidal Lagoon Power's interest in earmarking certain sites around the world to harness the power of the tides to generate electricity.
In order to understand the ecology of the area and to gain consent for any development, an environmental impact assessment has to be conducted. Part of this would be to understand the migratory patterns of salmon, sea trout and other coastal water species.
Current technology sees fish fitted with tags which emit a signal that is picked up by acoustic receivers moored on the seabed in order to try to track the movements of fish as they move through the area. This method is costly and logistically challenging, providing only a snapshot of the actual movements of the fish.
Tidal Lagoon Power, interested in exploring alternative research methods to address this issue, engaged with the SEACAMS team at Bangor University, to explore the use of Autonomous Underwater Vehicles (AUV's) in tracking fish "We see this as the future in fish tracking and if we can develop a low cost solution there is enormous potential for science beyond our projects and real potential for commercialisation. We are very keen to develop, test and deploy this technology as soon as possible and with the fantastic team assembled by SEACAMS and Bangor University this is definitely achievable."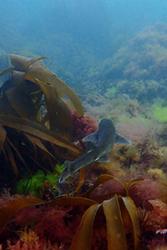 A cat sharkLarge sharks have been successfully tracked using this kind of technology and this project will be looking to see if this can be applied to small migratory fish such as sea trout, and other coastal species.
The AUV will track using acoustics, and once locked on to the signal of the tag carried by the fish, will actually move along behind the fish logging its position as it goes, giving a fuller picture of how the fish is using an area. The scientists hope that the vehicle will be able to track a fish for a number of days.
Understanding how fish move around our seas has been a gap in knowledge that has challenged ecologists for years; Jenny Whitmore, Researcher at the School of Ocean Sciences said:
"This project has huge potential to answer questions relating to the conservation of protected species, stock and habitat assessments, marine planning and fisheries ecology; we hope that the technology we develop can be applied to a variety of species in a range of different environments."
Dr Iestyn Pierce from the School of Electronic Engineering said:
"It is very exciting to think that one of our students will be filling the knowledge gap that exists in this area and could pave the way for further understanding of the secret world of fish."
Dr Bill Teahan from the School of Computer Science continued:
Saithe and pollack"the successful candidate for this exciting project will be writing cutting edge software and working with scientists from different disciplines to deliver the technology".
Other academic collaborators, based in the UK and overseas are in discussion with the team who aim to bring together expertise on all aspects of this exciting project. RS Aqua, a commercial partner specialising in marine instrumentation and acoustic equipment are providing equipment and technical advice as the project moves forward.
Knowledge Economy Skills Scholarships (KESS 2) is a pan-Wales higher level skills initiative led by Bangor University on behalf of the HE sector in Wales. It is part funded by the Welsh Government's European Social Fund (ESF) convergence programme for West Wales and the Valleys.
For more information on KESS 2 : http://kess2.ac.uk/
Full details of the KESS 2 funded 1-year MRes studentship can be found here : http://kess2.ac.uk/buk2129/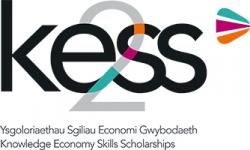 For further details please contact KESS2@bangor.ac.uk or call 01248 382162.
Publication date: 7 August 2017