NRN-LCEE public lectures
Please see below details for 2 upcoming NRN-LCEE public lectures at Cardiff and Aberystwyth Universities. All welcome.
University of Akron, USA
Date, Time & Location:
Thursday 31 May
Location: Cardiff University Main Building, Park Place, Cardiff CF10 3AT
17.00: Free drinks reception, VJ Gallery, Cardiff
University Main Building
17:30-18:30: Public lecture, Wallace Lecture Theatre
(0.13), Cardiff University Main Building
Click here to add this event to your calendar
In this lecture, Dr Petra Gruber from the Biomimicry Research and Innovation Center (BRIC) at the University of Akron, USA, will take a closer look at a biological paradigm underlying current research and development interests in architectural design: Biomimetics – a strategic approach to translate information from biology to technology. In this lecture, Dr Gruber will present several examples that illustrate how concepts of life can be translated to innovative design proposals, prototypes, methods and tools.
For example, birds nests made of more or less randomly assembled elements without connections, still deliver interesting mechanical properties. Research on these 'animal buildings' has provided prototypical building solutions, laying the groundwork for future product-oriented technological solutions.
Investigations of patterns in biological growth from slime molds and algae, have aided the design of materials and structures such as bioreactors and 3D printing improvements; and the correlation of leaf shape with evapotranspiration and thermal dynamics can be used to improve technical energy dissipation systems.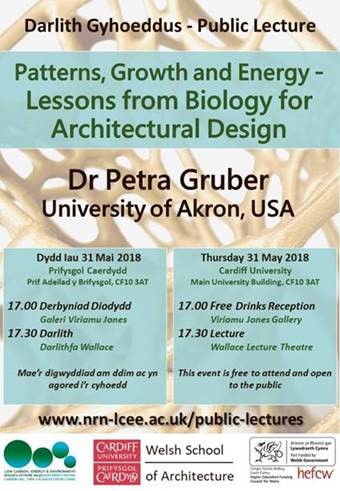 Professor Robin Gerlach
Montana State University, USA
Date, Time & Location:
Wednesday 6 June
Location:

Aberystwyth University

, Llandinam Building, Penglais Campus, SY23 3DB
17.00: Free drinks reception, DGES Concourse,
Llandinam Floor B
17.30-18.30: Public Lecture, Llandinam Lecture
Theatre A6
Click here to add this event to your calendar
In this lecture, Prof. Robin Gerlach, a Professor in Chemical and Biological Engineering from the Center for Biofilm Engineering (CBE) at Montana State University-Bozeman (USA), will provide insights into the actions and results of mineral-precipitating and mineral-dissolving microbes. These microbes happen to be all around and within us; and depending on the circumstances they can be used for benefit or cause damage. 'Rock-Forming Microbes – The Good, the Bad and the Ugly' will take a look at microbes involved in diverse fields such as cement production, art, environmental remediation, building damage, corrosion and kidney stone formation.
Prof. Gerlach and collaborators are trying to harness the Beauty of and control the Beast within these diverse microbes. Controlling the actions of these microbes provides an opportunity to develop novel building materials, stabilize building foundations and dams, seal leaking wells, control radioactive wastes, create pieces of art, and improve the treatment and prevention of kidney stones.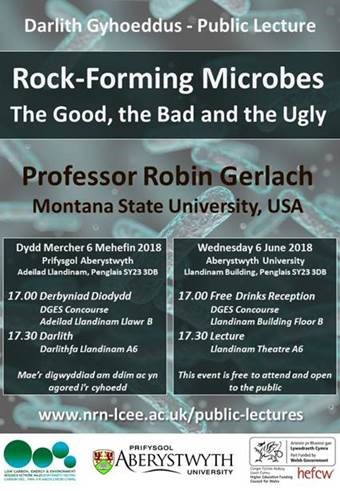 These lectures are part of the Sêr Cymru National Research Network for Low Carbon, Energy and Environment (NRN-LCEE) public lecture series.
NRN-LCEE public lectures are free to attend and open to the public. There is no need to book a seat.
Publication date: 14 May 2018