Stella Alexandroff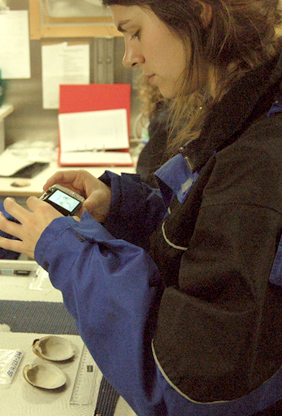 Researching: Variability of Atlantic inflow using sclerochronology: Scotland-Norway branch of the North Atlantic Current
Room: CM304
Phone: +44 1248 382303
E-mail: osp407
Biography
I studied Ecology at the University of Vienna and at the Université Pierre et Marie Curie in Paris. My diploma thesis focused on taxonomic diversity, reef zonation and growth forms in Recent and Pleistocene coral reefs in the Red Sea. I completed my studies with a master's degree at the University of Vienna in 2013 and moved to Bangor in April 2014 as a PhD student and Marie Curie Research Fellow.
Research
My PhD project is part of the EU-funded Marie Curie Initial Training Network ARAMACC ( Annually Resolved Archives of Marine Climate Change ) and focuses on the hydrographic variability of the NE Atlantic. To study past marine conditions, we construct chronologies and isotope series using the bivalves Glycymeris glycymeris and Arctica islandica collected in Scottish shelf seas. The shells serve as high-resolution archives of past marine climate: by looking at their annual growth rates and sub-annual geochemical compositions, we can reconstruct environmental changes that took place long before instrumental recording started.
Links
Publications
Alexandroff SJ, Zuschin M, Kroh A; 2016.
Quantitative comparison of Pleistocene and Recent coral reef habitats in the northern Red Sea (El Quseir, Egypt). Facies, 62(2), 1-12
View website
PDF copies of some of these publications are available (as indicated by hyperlinks in the list) for non-commercial research and educational purposes only. You may not use the material for commercial purposes or make multiple copies without requesting permission from the copyright holder (usually the book or journal publisher).