Dr Suzanna Jackson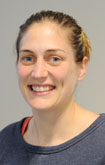 Biography
I completed my BSc in Marine Biology and MSc in Applied Physical Oceanography at Bangor University. This multidisciplinary background lead me to undertake a PhD also at Bangor University entitled: Turbulence control of floc size in the river-estuary transition zone. I am currently a lecturer in the School of Ocean Sciences, specialising in estuarine sediment dynamics.
Research Interests
My research interests are concentrated in the estuarine environment, studying suspended sediment dynamics. I am particularly interested in the physical processes controlling the size of suspended sediments and how this can change dramatically on short temporal and spatial scales. This is of particular importance to biogeochemical pathways from river catchments to coastal regions as suspended sediments play a major role in transporting terrestrially derived organic matter via rivers to the coastal ocean. In order to obtain data representing hydrodynamic and suspended sediment characteristics on the temporal and spatial scales observed in estuaries a combination of novel acoustic and optical technologies are required.
Research Groups
Publications
Peer Reviewed Journal Papers
Robins, P.E., Skov, M.W., Lewis, M.J., Giménez, L., Davies, A.G., Malham, S.K., Neill, S.P., McDonald, J.E., Whitton, T.A., Jackson, S.E. and Jago, C.F. (2016)
Impact of climate change on UK estuaries: A review of past trends and potential projections. Estuarine Coastal and Shelf Science, 169, 119-135.
PDF copies of some of these publications are available (as indicated by hyperlinks in the list) for non-commercial research and educational purposes only. You may not use the material for commercial purposes or make multiple copies without requesting permission from the copyright holder (usually the book or journal publisher).